Ryanair hikes profit forecast on higher fares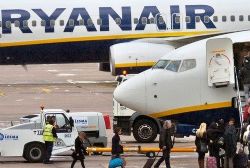 Ryanair raised its profit forecast on Monday, saying higher ticket prices were more than making up for expensive fuel and reduced capacity, underlining the resilience of its low-cost sector as legacy carriers struggle.
The Irish low cost carrier, Europe's largest, beat analyst forecasts by posting net profit of 15 million euros as average fares rose 17% in Q3 to December 31 from a year earlier.
The higher fares made up for a 2% fall in passenger numbers as the airline grounded 80 of its 270 planes over the winter due to high fuel costs.
"Ryanair is doing so well because it can increase its fares and still be lower than the competition," said Gerard Moore, an analyst with Merrion stockbrokers in Dublin.
"Cutting capacity more aggressively than its rivals gives it even more scope to increase average fares and this strategy is paying off."
The Irish carrier follows British low-cost rival EasyJet in posting strong revenue growth as higher-priced rivals are battered by fuel costs and a struggling global economy.
German group Lufthansa and Air France-KLM have cut profit forecasts after being battered by fuel costs and slashed plans to expand in 2012.
Ryanair's share price opened up 2.4% to 4.24 euros on Monday. It has increased 24 percent in the past 3 months, compared to an increase of 13% on the broader Irish market.
Ryanair's revenue was 844 million euros in the quarter, ahead of an average forecast of 819 million in a poll of 21 analysts compiled by the company. Quarterly net profit of 15 million euros was well ahead of a 16 million loss forecast.
It increased its full year profit forecast by 9% to 480 million euros.
RISING FUEL BILL
"The EU recession, higher oil prices, the unfolding failure of the package tour operator model, significant competitor fare increases and capacity cuts, has created enormous growth opportunities for Ryanair," Chief Executive Michael O'Leary said in a statement.
Ryanair is examining opportunities in Spain following the collapse last week of loss-making rival Spanair, Chief Financial Officer Howard Millar told Reuters.
"We certainly see it as an opportunity to expand our base," he said.
One cloud on the horizon is the fuel bill, which Ryanair is forecasting will increase by 350 million euros in its next financial year, which runs from April 2012 to March 2013. That poses a significant cost challenge, but does not necessarily mean profit growth will slow, Millar said.
"So far we have been able to pass on higher fuel charges to passengers in the form of higher fares. So far so good, but one never knows," he said.
The company's annual report puts its fuel bill for the 12 months to March 31 2011 at 1.2 billion euros.
Ryanair expects passenger numbers to grow to 80 million passengers in 2011 from 76 million in 2010.
Ryanair has not changed its plans to pay a substantial dividend of up to 500 million euros in 2013, but suggestion it would pay a similar amount a year later was "pure speculation," Millar said.