La Caixa and Samsung launch TV banking app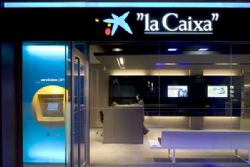 Spain's CaixaBank SA (la Caixa) and Samsung have announced the launch of Spain's first banking application for Smart TV.
The 'app' is available for all Samsung Smart TV compatible devices and allows la Caixa customers to view accounts using their remote control and will be compatible with Samsung televisions, Blu-ray players and Home Cinemas connected to the Internet, known as Smart TV devices.
La Caixa customers who are users of such devices will be able to access their accounts, check balances and view recent movements using their remote controls from their living rooms. The system operates with all the security guarantees of Línea Abierta.
The move sees la Caixa add a further operating channel to Línea Abierta, its online banking platform, which can currently be accessed via computers, mobile telephones and tablets.
The bank, chaired by Isidro Fainé and directed by Juan María Nin, was recently recognised as the world's most innovative bank at the Global Banking Innovation Awards, out of 200 banks from 40 countries.
la Caixa currently leads the Spanish mobile banking sector both in terms of individual customers and business users. With 2.2 million customers using mobile services, the bank's mobile applications have been downloaded more than 2 million times. "la Caixa" offers more than 50 applications, all freely available via its applications store, CaixaMóvil Store.
The bank is also is the leader in Spain's online banking market, with a market share of 30.2% according to the latest research from Nielsen, a consultancy company.