Spain's banks count cost of property clean up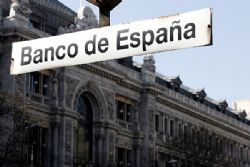 Spanish banks counted the cost on Tuesday of new government rules aimed at cleaning up the damage from a property market crash, recognizing billions of euros in losses and, in the case of the most exposed, seeking a merger.
Spain's three biggest banks said they would set aside 7 billion euros in extra funds to cover rottern property assets on their books, following new rules announced by the government last week in a fresh attempt to restore confidence in the country's financial sector.
The more heavily exposed Bankia said on Monday it was interested in a merger to help it cope with the new requirements. Much of Spain's financial system has been frozen out of interbank markets in recent years, partly as a result of the euro zone debt crisis and also due to fears its banks have not fully recognised losses from a property market crash in 2007.
The government said last week it would force banks to book losses of up to 80% on assets, such as undeveloped land that banks seized when property developers went bankrupt. It estimated the move was likely to lead banks to recognise an additional 50 billion euros in losses.
Local banks had previously written down asset values by around 30% in an earlier financial sector reform.
Santander, the biggest bank in the euro zone, said on Tuesday it would make 2.3 billion euros of additional provisions, while BBVA, Spain's second biggest bank by market capital, said it would need an extra 2.2 billion euros.
Caixabank, which has one of Spain's largest retail banking networks, said it would make an extra 2.4 billion euros in provisions.
Analysts said the amounts were manageable for all three even though banks are also in the process of increasing core capital to meet new requirements from the European banking regulator.
"The banks that are showing their face are the healthy ones, the ones that won't have a problem meeting the new requirements, even if it doesn't come for free. But the biggest problem is still Bankia," said an analyst in Spain who asked for anonymity.
BANKIA EYES MERGER
Bankia, one of the banks most heavily exposed to property assets, said last week it could meet the new provisions requirements through asset sales and other measures.
However, analysts think the bank, which has already received 4.5 billion euros in government loans, is a prime candidate to participate in a fresh round of mergers to more easily digest the government's new financial demands.
Bankia Chairman Rodrigo Rato said on Monday his bank is interested in merging with Unnim, a loss-making bank that was taken over by the government last year, or other nationalised savings banks.
Analysts anticipated the new rules would give fresh impetus to a flurry of dealmaking among Spain's weaker banks.
Its savings banks, which bore the brunt of exposure to the property bust, have already been cut to 17 from 45 following a wave of mergers last years. Experts say six or seven banks total is a more reasonable number for Spain's financial sector.
But the government will be very cautious about approving mergers between entities that have been rescued, a source at the economy ministry said on Monday.
"The market is not going to forgive us if there are non-viable mergers or mergers with doubtful viability. We will have to be scrupulous in that regard," the source said.
THE STRONGEST SURVIVE
In a statement to the stock exchange regulator, Santander said it needed a total of 6.1 billion euros of provisions under the new rules.
Santander already booked some 1.8 billion euros in provisions against 2011 results and 2 billion euros were already covered in an existing buffer. It said an additional 900 million euros would come from capital gains on its sale of Banco Santander Colombia.
The rest of the extra provisions would come from ordinary income and capital gains in 2012, the bank said.
"These are the strongest banks in the Spanish financial sector so it's not suprising they can manage the (requirements) through generic provisions or by bringing forward other capital buffers," BBVA financial director Manuel Gonzalez Cid said.