Spain's Rajoy does not plan tax hikes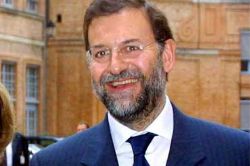 Spanish Prime Minister Mariano Rajoy said on Thursday he does not plan any additional tax hikes as his government tries to meet stringent deficit targets this year.
Rajoy, who was speaking in Rome after meeting with his Italian counterpart, Mario Monti, raised some income and property taxes early in January.
Spain's value-added tax is lower than in many European countries and many economists and financial analysts expect the government will have to raise it to try to cut the deficit to 4.4 percent of gross domestic product, its current objective.