Labour Day Protests Planned Across Spain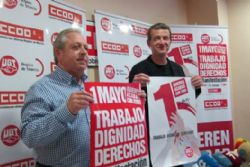 Following on from Sunday's demonstration marches, held in a number of cities across Spain in protest over recent reforms, further action is expected to take place today.
According to the unions some 80'000 people joined Sunday's protest in Madrid alone, whilst Police sources claim the number to be 40'000.
Today, Tuesday May the 1st, is International Labour day. It is also perhaps significant that on Friday of last week the National Institite of Statistics confirmed that the rate of unemployment in Spain has now reached 24.6% - the highest it has been in 18 years.
80 Towns and Cities are expected to play host to demonstrations with most taking place at noon, except in Catalonia, where the first takes place at eleven.