Gov't reforms to create 800'000 new jobs by 2020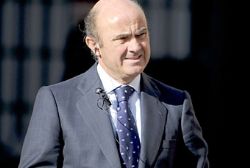 According to government accounts, the labor reform approved in February will reduce unemployment by around 800,000 before 2020.
However, it is to be expected that this positive change will only be seen in the medium to long-term, with the Labour Force Survey for the first quarter of 2012 showing how an additional 400'000 joined the ranks of unemployed.
Following the Cabinet meeting last Friday, Minister of Economy Luis de Guindos, was even more optimistic, claimin that the set of structural reforms adopted by the Government will result in the creation of 2 million jobs by 2020, and a GDP growth potential of 1.0% per year.
On the downside, the government estimates that theses reforms will result in the loss of purchasing power until at least 2015.
The application of the labor reforms will lead to a low growth in compensation per employee in 2012 (0.2% during Q1 2011) even in the context of significant job losses. A fall is expected in 2013 (-0.4%) with the following 2 years being minimal (below 0.3%). This contrasts with inflation, which means that ​​the loss of purchasing power for workers will be considerable.