Thousands attend May Day protests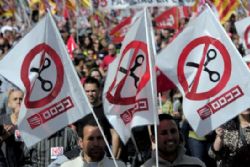 Tens of thousands of people took to the streets around Spain yesterday to mark International Workers' Day. The largest rally took place in Madrid, where the labor unions said some 100,000 people joined a march in protest against the sweeping spending cuts and labor reforms of the Popular Party government.
"The general strike of March 29 is not the end of it; the 1st of May is not the end of it; we'll keep coming onto the streets to annoy them, to make them change," said the leader of the CCOO labor union, Ignacio Fernández Toxo.
His counterpart at the UGT union, Cándido Méndez, said that the government's labor reform plan "has brought the working conditions of China to Spain." Prime Minister Mariano Rajoy, he said, "wants to impose the Thatcher mandate on us and destroy public services."
"There are so many reasons to protest, where do you want me to start?" said a student in Madrid, summing up the growing sense of resentment among Spaniards at spiraling unemployment and an increasingly grim social and economic outlook. Among the placards and banners in the capital was one that read: "Hands up! This is a contract."
In Barcelona, labor unions put the number of protestors at 100,000, but the local authorities placed the number at closer to 15,000.
Some 80 rallies took place in 60 Spanish cities in all.