Cabinet Plan to finalise RENFE and AVE Franchising today
Since his appointment as the head of RENFE, Julio Gómez Pomar has been tasked by the Ministry of Development in finding ways to franchise off some of the lines operated by the state owned network of trains.
Sources close to the project expect that this will take effect in 2 stages : The first will consist of finding interested parties to operate some or all of the 12 operational centers for RENFE's suburban and regional lines, which is expected to be complete during 2013.
The second will be to find different operators for the medium and long-distance routes, aswell as the High-Speed AVE.
The Unions have criticised this proposal as 'decreasing the value of the service to the passenger' and of 'marginalising RENFE and the State's involvement'.
For their part, the Ministry of Development said how these fears are unfounded, and that countries such as Germany have launched a similar 'liberalization process', and that the publically operator not only remains the leading company, but has become one of the largest transport companies in the whole world.
Each Franchisee will be able to bid on a territory, or region on the understanding that they carry out their services by meeting quality commitments, traffic frequency, punctuality, ticket prices, maintenance of equipment, staff social policy, etc... and with the emphasis on providing a public service.
However, things become slightly complicated in that this measure must also be adapted to the regional state model. The Regions currently operate the lines running through their territories on behalf of RENFE, but a transfer of control of rail services back to RENFE has begun in Catalonia and the Basque Country and is expected to happen soon in Andalucia.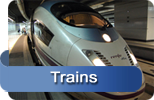 Tumbit Trains
Buying Train tickets for long-distance and trans european journeys in Spain can be a time consuming and confusing experience. Here at Tumbit we have partnered with Rail Europe, who guide you through the entire search and booking process online to ensure that you can plan your journey with peace of mind.