EU and Spain criticise Bolivia power firm takeover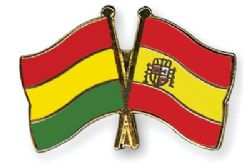 The EU and Spain criticised the Bolivian government's nationalisation of a local unit of Spain's Red Electrica Española, raising questions about the security of investing in the South American country.
Bolivia's leftist President Evo Morales on Tuesday ordered the army to take over the Cochabamba headquarters of power transmission company Empresa Transportadora de Electricidad.
The move follows Argentina's decision to expropriate Spanish energy group Repsol's major stake in YPF.
"The European Commission is concerned by the Bolivian government's decision," John Clancy, trade spokesman for the Commission, the EU's executive, said on Wednesday.
"Actions like this one necessarily send a negative signal to international investors over the business and investment climate in Bolivia," Clancy said in a statement.
"We trust the Bolivian authorities will fully uphold their investment agreements with Spain and ensure prompt and adequate compensation for this expropriation."
Speaking in Brussels Economy Minister Luis de Guindos criticised the move by Bolivia, but said the country had guaranteed Spain compensation.
"The Spanish government does not like these sorts of decisions as we believe it's fundamental to maintain legal security when investing in countries like Bolivia," he said.
According to brokerage Banesto Bolsa, Red Electrica bought the Bolivian subsidiary for €92 million in 2002, and had invested €60 million in the country's electricity network.
The Bolivian government justified the nationalisation by saying the company had failed to invest enough.
Shares in Red Electrica were down 3.6% at €31.7 by 12:26 p.m. GMT.
Banesto said the nationalisation would have limited impact on the company's accounts. The brokerage said Repsol was the Spanish company most exposed to Bolivia.
However, Bolivia assured Repsol chairman Antonio Brufau on Tuesday that the company's investment in the country was safe after the company's opening of a gas plant said to be worth around €100 million.
Repsol shares were down 2.87%.
Spain has so far struggled to come up with a strong response to Argentina's move against Repsol, although the European Commission has said it is studying "all options".