Balearics 'popular with expats'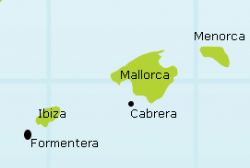 The Balearics are a popular destination for British expats looking to relocate overseas and the Spanish islands are now home to almost 24,000 Brits.
This is according to the latest figures from the Spanish National Statistics Institute (INE), which show the average age of Brits living on the archipelago now stands at 46.6 years.
Stephen Dight, managing director of Mallorca and Ibiza at Sotheby's International Realty, was quoted by A Place in the Sun as saying the Balearics tend to "attract a wealthier expat" that is largely immune to the economic crisis, thanks to "higher property prices and lower supply of quality homes than [the] mainland".
Foreigners on the islands make up 21.6 per cent of the total population of 1,118,654, with German residents accounting for 36,727, substantially ahead of the 23,773 Brits in the area.
Click here to read More News Stories by Expatriate Healthcare?