Further consolodation of Banks required : Rato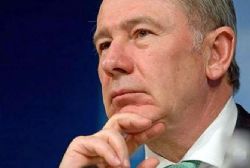 The Chairman of Bankia has warned that the Spanish Banking sector is still too large and theat further consolodation of the industry needs to take place.
Rato, who has previously held positions as the Minister of the Economy, and the Managing Director of the IMF went on to say how this should be accomplished by means of mergers and by downsizing.
Bankia rose to become Spain's 3rd largest lender following the merger of 7 savings banks, and such the overlaps have resulted in to closure of 817 branches and the loss of 3'833 members of staff - a reduction of around 25%
The Bank of Spain has already pushed the number of lenders in the sector to decrease from 45 to just 13 over the last 2 years, and are encouraging further mergers and takeovers of weaker Banks to see this number fall further still. One of the factors that may encourage this is the government's requirement for lenders to make provisions of €53 billion to cover potential losses from their real estate assets, a process the administration hopes will push weaker Banks into the arms of stronger ones.
Following the crash of the property market in 2009 the country's Banks have had to cover €166 billion of exposure to the market - around 15% of Spain's GDP. Following recent property crashes in the USA and Ireland property values fell by 40-43%, but by just 27% in Spain so far.
Rato said the key to getting the property market moving again was to run down the stock of unsold new homes, which experts in the sector estimate at around one million units.