Bankia sees sharp rise in housebuilder arrears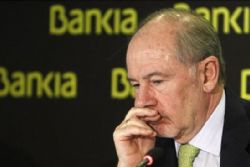 Banco Financiero y de Ahorros (BFA), the parent company of Spanish lender Bankia, increased property repossesssions last year and saw a near 37% rise in loans to housebuilders falling into arrears, its annual report showed on Friday.
Investors worry that BFA's listed banking unit Bankia will not be able to manage its high exposure to Spain's property market crash without an injection of public funds which may lead the country to seek an international bail-out.
Despite rising bad assets, BFA, including Bankia, had reduced its exposure to loans to housebuilders by €4.9 billion to €37.5 billion at the end of 2011 because it increased its provisioning against losses on bad real estate investments.
The Spanish government has demanded banks write off losses from a decade-long property boom which crashed in 2008 in order to clear their books and restore faith in the system.
BFA closed 2011 with €9.1 billion of repossessed assets on its balance sheet, up from €8.8 billion in the year previously.
Loans in arrears to housebuilders stood at €10.6 billion, up 36.5%, and the percentage of bad loans as a proportion of the total loan book in this sector rose nearly 10 percentage points to 28% in 2011.
The bank is trying to write off losses at the same time as more loans fall into arrears, as the economic recession and high unemployment cause Spaniards to fall behind on debt payments.
Total exposure to the real estate sector, including foreclosed property, bad housebuilder loans and loans about to fall in arrears, was nearly €46.6 billion at the end of 2011.
Bankia is due to report first-quarter results on May 18th.