Complaints of Spain Gov't abuses investigated by UN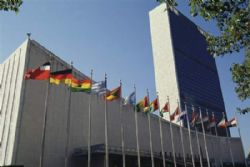 Later this week around 20 non-government organisations (NGO's) and associations are expected to make a formal complaint the the Economic, Social and Cultural Rights Committee of the United Nations regarding Spain.
The complaint concerns the Spanish Government's recent reforms and responses to the economic downturn, which the group maintains, do not comply with a number of international agreements, and which endanger a number of social rights.
The board of 19 experts who sit on the committee will begin their investigation today by taking recommendations from the member states who have ratified the International Covenant on Economic, Social and Cultural Rights.
The committee will then a study a report that has been requested from the government and two others submitted by NGOs, one by Amnesty International and the other prepared by a coalition of 19 organizations, including the Spanish Association for the International Law of Human Rights, the Development NGO Coordinator and the Center for Economic and Social Rights.
Amongst other things, the group is complaining against what it considers "the unequal distribution of resources in Spain, which is resulting in differences between geographic zones, and the absence of social protection measures for the most vulnerable people, including women, migrants, disabled people, gypsies and young children".
The Organizations also claim that the information which the government is supposed to provide is limited to mentioning advance or benefits in t in the ratification of international instruments relating to these rights and their incorporation into the laws, without reflecting the current situation of the rights of citizens, without making an assesment of the current situation, or the negative impact of any such reforms.
The NGOs also note the "growing deterioration in the living conditions of a large part of the population and the important repercussions they will have on the enjoyment of human rights," the "elevated rate of child poverty" and "the enormous percentage of juvenile unemployment, almost 50%".
They request that the committee urge the Spanish government not to adopt regressive measures and not to use the crisis "as a justification to relegate these rights to second place."
The Amnesty International report follows a similar path, noting that it "views with concern" the cutbacks in public health that may "aggravate the situation and infringe upon the availability, accessibility and quality of health services."
Regarding violence against women, the organization says that since the economic crisis began, and especially in 2011, "specific" Spanish regions have "considerably" limited the financing of women's centers, urgent housing centers and shelters.