Ryanair voted 'least favourite airline'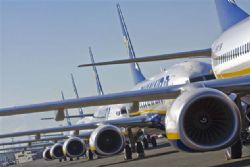 Regular travellers to Spain will not be surprised to hear that Ryanair has been voted the 'least favourite airline'.
The survey was conducted by Tripadvisor, who found that the biggest complaint against the airline was their customer service - especially when considering the airline's insistance on referring to itself as the 'most popular' airline.
The same poll found that Virgin Atlantic was the most popular airline, followed by British Airways, Singapore Aielines, Emirates and Thompsons.
The study surveyed 936 UK residents to find their opinions on a range of issues and found that badly behaved children and the excessive use of reclining chairs topped the list of disturbances on board.
Ryanair have topped the poll in the 'least favourite airline' category for 3 consecutive years.
Despite being in Dublin, Ryanair also managed to feature in consumer action group FACUA's top 5 nominations for 'worst Spanish company' last month.