Spain 'must tackle fiscal consolidation and reforms'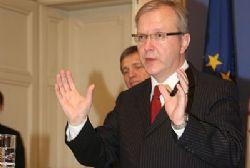 Spain must tackle its fiscal problems and purse structural reforms to assure markets it is capable of economic sustainability, EU Economic and Monetary Affairs Commissioner Olli Rehn said on Tuesday.
Asked if Spain should be given an extra year to reach its target of reducing its budget deficit to 3% of GDP in 2013, Rehn told a news conference:
"Member states with more fiscal space should allow automatic stabilisers to function fully, meanwhile vulnerable member states that have been under close market scrutiny, such as Spain, need to tackle their fiscal challenges as part of confidence-building measures. "In essence, the road to medium-term economic sustainability goes through immediate, decisive actions in structural reforms and financial stability," Rehn said.
"For Spain, the key for reinforcing confidence is to tackle the immediate fiscal and financial challenges, especially problems in the savings bank sector and in the spending of regional governments, as well as pursue structural reforms with full determination," Rehn said.