European shares fall as Greece, Spain worries grow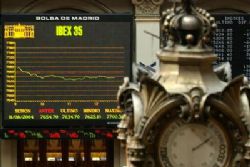 European shares fell to a four-month low on Wednesday as growing political uncertainty in Greece and concerns over the Spanish financial system hit markets, with traders and analysts saying central banks might have to pump more liquidity into the system.
The FTSEurofirst 300 index ended down 0.3% at 1,014.46 points. The index pared back some of its earlier losses towards the end of the session, but still finished at its lowest close since Jan. 9 when it ended at 1,008.69 points.
The Spanish stock exchange dropped by 2.8%, as uncertainty over the final cost of a government plan to save its troubled banking system hit markets.
Fears that Greece may leave the euro zone also continued to weigh on sentiment, after some Greek parties which did well in elections over the weekend rejected the terms of the country's EU/IMF bailout programme.
"Every day that goes by seems to make it more likely that Greece will split from the euro," said Edward Allen, a partner and fund manager at Thurleigh Investment Managers.
Allen said Thurleigh, which manages around 300 million pounds ($485 million) worth of assets, was underweight on European equities, preferring instead to hold American and Asian shares due to the better economic prospects in those regions.
MORE QUANTITATIVE EASING ?
Britain's FTSE 100 index fell by 0.4 percent, France's CAC-40 index shed 0.2% although Germany's DAX ended up 0.5%, helped by record monthly levels in German exports and imports.
The FTSEurofirst index has now given up much of the gains made after the European Central Bank first pumped hundreds of billions of euros worth of cheap funds into the banking system in December, and traders said a new round of emergency funding for banks might be needed.
"The central banks will not allow another banking crisis," said Adrian Redmond, senior trader at London-based firm JN Financial. The Bank of England, which meets on Thursday, may come under pressure to extend its asset-buying programme, designed to inject liquidity into the financial system, although inflationary worries may also deter it from another bout of quantitative easing.
The Euro STOXX Volatility index briefly reached a 2012 high of 33.28 points on Wednesday, indicating growing investor fears over the economy and expectations that stock markets will fall further, before ending down 0.4%.
"I am going long on volatility and buying puts on major indices," said Akshay Kapoor at Gekko Global Markets.
A put option gives the purchaser the right to sell a security for a specified price at a certain time and is often used by investors to protect themselves in a falling market.
Adrian Slack, head of equities at Bastion Capital, said there might be some short-term rallies in European stock markets but the longer term picture looked negative for them.
"The market looks oversold on the short-term, but for the longer-term it looks on the downside," said Slack.