Barclays shares hit by Spain's debt crisis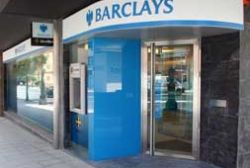 Shares in Barclays shed 3.2%, leading UK-listed banks lower and the second-top faller on the FTSE 100, as concerns grow over its exposure to Spain's financial crisis.
Spain's government tried to plug a gaping hole in the country's banking system on Friday, but the fourth such attempt to tackle the fallout from a property crash fell short of expectations.
"The situation in Spain is clearly worrying, we would not expect it to pose significant balance sheet risk to Barclays unless Spain exits the Euro (in which case all bets are off)," Shore Capital says in a note.
"Nevertheless, with such significant headline exposure to the region, we expect Barclays to be the UK bank that is most exposed to negative sentiment affecting the country," the broker says.