Goverment arbitrator asks for more time to resolve Iberia dispute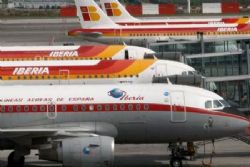 The government-appointed arbitrator brought in to mediate between Iberia airline and their striking employees - members of the SEPLA Pilots Union - has commented how he will be unable to find a resolution in the time scale he has been allocated.
Jaime Montalvo was given 10 days to solve the conflict between both parties on the 29th of April, where he was given 10 working days to bring an end to the dispute.
Montalvo was due to present a report of his findings to the joint Ministries of Labour and Public works early this week, but has requested an extension to his allocated time due to the complexity of the problem.
The Government forced both parties to enter arbitration following 12 days of 24 hour strike action being held since December 2011, which had been estimate to have cost the airline around 3 Million Euros per day. A further 20 days of action had been planned to be held each Monday and Friday until the 20th July.