Bank of Spain orders new clean-up plan at Bankia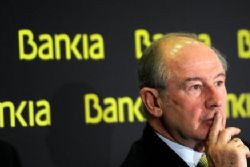 The Bank of Spain has ordered Spain's 4th largest bank, Bankia, to present a new plan to clean up troubled real estate assets, Bankia said in a statement.
Spain's conservative government acquired 45% of Bankia last week through converting an earlier €4.5 billion rescue loan to parent company BFA into shares and is expected to merge Bankia with BFA to control both entities.
The government is also expected to pump another 10 billion euros of loans or cash into Bankia to cover the hole left by bad loans.
"The Bank of Spain, in view of the events of the last few weeks and the growing uncertainty about the future of the entity, has demanded the presentation of a strengthened plan," Bankia said in a statement to the stock exchange regulator.
Bankia had presented a plan in March to meet provisions against potential property losses and the Bank of Spain had pressed it to take additional measures, Bankia added.
Bankia, exposed to Spain's weakened property market, is at the heart of the country's banking problems which, in turn, are at the heart of the euro zone debt crisis due to fears of a costly government bailout of the financial sector.
Bankia, formed in 2010 from seven weak savings banks to try to save all of them through efficiencies, now holds more than 10% of deposits in Spain's banking system and is the most exposed bank of all to bad property debt.
When a 10-year housing and building bubble burst in 2007-08, Spain's banks found themselves saddled with bad debt and soured property assets that now total €184 billion.
In its statement on Tuesday, Bankia said it could revise its 2011 results after making an audit of them public at a shareholders meeting before the end of the month.
With results due out on Wednesday, Bankia also issued figures for its first quarter, which it said could be revised if changes to 2011 results were made.
Bankia said once auditors had approved results, it would estimate the provisions it needs to make to comply with tougher rules set by the government for provisions on Friday.
Bankia said it increased Q1 net interest income to €844 million, €83 million euros more than the same period last year.
It had liquid assets of €21.9 billion, above the €15 billion of wholesale funding due for repayment before December 2014.