Spain approves Catalonia regional spending plan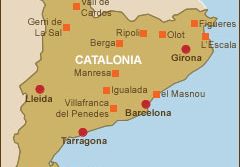 Spain's central government has approved the spending plans for 2012 for the north-eastern region of Catalonia, key to helping the country meet its public deficit targets, a spokeswoman for the region's Economy Ministry told Reuters on Thursday.
The region represents around a 5th of the country's economic output and has passed a tough budget including cuts to education and health system.
"We can confirm that an agreement has been reached with the central government for this year's spending plans," a spokeswoman said.
All 17 highly-devolved Spanish regions were meeting with Treasury Minister Cristobal Montoro to seek approval for their revenue and spending plans for this year or face intervention by the central government.
A source being briefed on the meeting said the budget plan of the small north-western region of Asturias had been rejected by the government.