Spain to outline Bankia plan, may announce bailout size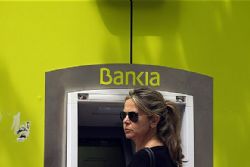 The Spanish government is set to outline on Wednesday its plan to restructure the recently nationalised Bankia and announce how much additional money it will pump into the ailing lender, government sources told Reuters on Tuesday.
One of the sources said talks on the size and form of the bailout - through loans, equity or cash injection - were being held between the economy ministry, the Bank of Spain, Bankia and Goldman Sachs, which was hired last week to value the lender.
A final decision may not be made before Economy Minister Luis De Guindos address a parliamentary committee at 1600 GMT to inform on the take-over of Bankia and the restructuring plan for the lender, although he will want to give key details of the government's strategy, the source said.
"De Guindos will present the main elements of the plan to the parliament. His intention is to also give a figure but the talks are not finished yet," the source said.
A second source said De Guindos was very likely to announce the final taxpayers bill of Bankia's rescue.
Spanish banks have been weighing heavily on Spain's public finances and many analysts fear Madrid will be forced to seek international aid to recapitalise them. The government has denied any such possibility in many occasions.
MORE FUNDS
Spain last week injected €4.5 billion into Bankia and its parent company BFA (Banco Financiero y de Ahorros). The bank will need more funds to fully clean up bad loans and rotten assets from a decade-long real estate bubble that burst four years ago, analysts say.
The government is expected to lend or give Bankia, Spain's 4th-biggest lender, about €10 billion in additional aid, although bank analysts believe it will need more.
De Guindos on Monday said Bankia needed to find about €7.5 billion by the end of year to comply with two financial reforms presented by Spain's centre-right government in February and last week.
It also needs to raise about €1.3 billion by June to meet stringent European Banking Authority capital rules.
Several financial and government sources told Reuters last week that the strategy of the Spanish authorities would be to clean up, downsize and sell Bankia within 3 years.
The plan could however derail if the several capital gaps identified in the accounts by the lender's auditor Deloitte were too large, the sources said.