Spain may forge one bank from failed lenders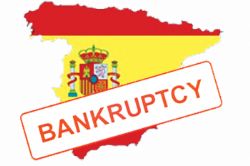 Spain may create one nationalised bank out of its failed lenders including problem lender Bankia if the state cannot find buyers for state-rescued banks, a senior Economy Ministry source said.
The country's weak banks are central to the European debt crisis as many investors believe the government will only be able to support them by seeking international aid.
Spain announced a bailout of at least €9 billion euros and full state takeover for fourth-biggest bank Bankia on Wednesday.
The government will see what offers are made for state-rescued mid-sized regional bank Catalunya Caixa in an auction due next month and may combine it with other failed banks if no attractive offers are forthcoming, the source said.
Auctions for Catalunya Caixa and small listed bank Banco de Valencia, with assets of around €20 billion, taken over by the government when they couldn't handle losses related to a real estate crash, are due to take place next month.
Mid-sized regional bank NovaCaixaGalicia, with around €72 billion in assets, is due to be sold later in the year, possibly in October.
Economy Minister Luis de Guindos said the nationalisation of Bankia meant the government had new options in what to do with banks already taken over by the state.
"We have a new situation in the nationalisation of Bankia ... that in some way opens new possibilities in terms of actions and combinations," he told reporters late on Wednesday.
However, he said the auction process for Catalunya Caixa was still underway.
International institutions will oversee an audit of Spain's banks, a government source said on Thursday, aimed at reassuring investors that bailout costs will not spiral as the prospect of new borrowing threatens to further inflame the euro zone crisis.