Cactus Worldwide Ltd - Worldwide Language Courses
Cactus is one of the world's leading language training companies, providing courses in more than 30 languages, in over 60 countries and in some 500 destinations worldwide.
Cactus specialises in all forms of trainer-based language training for enterprises and individuals, from evening courses and language learning holidays to tailor-made packages and teaching English as a foreign language (TEFL). Cactus also uses blended learning approaches, including self-study and online & distance learning, under the banner "Learn a language your way". Founded in 1998 in Brighton (UK), where its headquarters remain today, Cactus has expanded to include a US division based New York. Its impressive portfolio of over 15,000 international clients includes Tesco, Microsoft, BT, Burberry, The Royal Bank of Scotland and Oxfam, to name a few.
Whether you are interested in learning Spanish in the UK, in Spain itself ( even in Latin America ! ) or in studying a TEFL Course, you can rest assured that Catus languages has the course for you.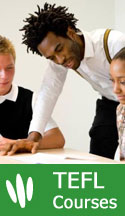 TEFL Course Advisor

Editor