A flight from Alicante airport's new terminal : Day 1
Along with other specially invited dignitaries and respected members of the press, I arrived at Alicante's El Altet airport to see the new airport terminal for myself, and also to take a commemorative flight back to the UK.
Ok, so I was neither 'specially invited' and nor am I a respected member of the press – either in the UK or in Spain (I could further add that as I was travelling with Ryanair, neither did the journey qualify as being called a 'flight' – or at least as far as my understanding of the word goes!).
It was just a happy coincidence that the flight that I happened to book some months ago now, was scheduled to depart on the very first day of the opening of the new terminal.
So I wasn't going to let this opportunity for a sneaky blog to pass me by, and I'm actually typing it up right now as I sit squashed into my seat in cattle-class (apologies to the woman sat next to me as we continually fight for elbow space).
The first thing that caught me out on hearing the news that my flight was to take place on the first day was wondering which of the three terminals my Ryanair flight would now depart from. I checked Alicante airport's own website, which told me that the terminal and gate number would be advised on my boarding pass. As Ryanair oblige you to check in online and print out your own boarding pass, I can assure you that it did not.
On visiting the AENA website, the detailed section on the new terminal at Alicante told me, in English, everything I wished to know from the number of lifts, toilets and parking spaces at the new terminal, to the outlets in the food court. It did not tell me which airlines it served.
No great hardship. I was no stranger to the old terminal buildings and was sure that it would pose no real problem.
On arriving at the airport the first thing I noticed was that T1 and T2 were now closed for refurbishment, given that the new T3 had given them the opportunity to do this. At least that made things easier for me in deciding which terminal to try first.
The new terminal is an enormous L- shape, probably about 5 stories tall of endless panes of glass, with plenty of drop off spaces (Free) right outside the door, and plenty more short and long term parking spaces close by and undercover. I can't vouch for the prices as a friend dropped me off outside the door.
Once inside the sheer scale of the building struck me straight away – the light, the feeling of space, the facilities, the desks etc... I found as being very '21st century', and (to steal my friends observation), 'future proof'.
The second thing that I noticed was both the number of staff on hand and the fact that almost all of them spoke a very good standard of English (I suppose it makes sense, given that a reported 60% plus of all flights go to or from the UK).
We sailed through security as, unlike the old airport terminal, there were more than just the 2 jobsworths manning the scanners – I counted 8 in total. When I 'buzzed' the smiling operator frisked me and waved me past as he apologised in fluent English (first day, wonder if it will last?)
Once through, it is obligatory to walk through the enormous Duty Free shopping area, where everybody seemed to be sidestepping the scores of overly made-up cosmetic girls spraying some obnoxious fragrance akin to toilet duck over the place. Many of the adverting seemed to proclaim how cheap the products were, but I noticed that a 10x50gm pack of Golden Virginia was 84 Euros. Doesn't strike me as comparing favourably to the 48 Euros it would cost in my local Tobacos.
Once you have run the gauntlet in Duty Free you enter the retail area. To say it doesn't compare to the old terminal is an understatement: It is bright, airy, clean, aesthetic, it flows well and it actually looks as though it was designed (as opposed to being something that just 'happened by accident). There are literally dozens of shops and even more places to buy food – and much of it looked not only edible, but actually fresh and wholesome. Even I was tempted into eating something.
It was more than likely down to it being the first day, but many of the shops and food places were offering free samples: chocolates, chupitos of wine, coffee etc... And overall I got the impression that I was in a shopping centre as opposed to an airport. It seems that every available space is given over to a retail opportunity of some sort.
I only had three minor gripes, or things that could have made my experience better :
1.) A children's play area would have been a welcome addition to help the weary parent traveller beat some energy out of their hyperactive child.
2.)I would also have found WIFI access would have been a nice touch, rather than stooping to charge travellers 1Euro for 10 mins on a dedicated bank of PC's that were throttled back to chug as slowly as possible.
3.)I would have appreciated not having to catch a bus from the gate across to where the aeroplane was waiting for us – at the old airport terminal! - Then again, I was flying with Ryanair and I read recently that, as they now account for 30% of traffic at the new terminal they have been flexing their muscles and refusing to pay for premium gates at the airport. It seems there is a stand-off between AENA and Ryanair over this, so I can't really blame this issue on the new terminal!
All in all quite impressive!
>> GET a FREE Travel Insurance quote NOW <<
Post Script: Landing at Bournemouth airport in the UK was something of a contrast. I was last at the airport almost 6 years ago - and at that time the it was in the middle of construction work to build a new arrivals and depeartures lounge. But today I found that the work is still yet to be completed. Spanish workmen generally get a bad rap (more often than not from myself), but compared to this fiasco I remain impressed that Alicante's airport came in on time, in 2 years.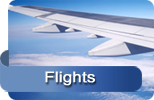 Tumbit Flights
Regardless of where you live or your reasons for visiting Spain, the whole process of searching for the cheapest and most convenient flights for you and your family can be time consuming. That's why here at Tumbit we have partnered with Cheapflights, who search through hundreds of available flights every day to find the best deals for you.