Mr Grumpy Visits Valencia
Shameful as it is to admit, after living in Spain for almost 8 years I have never once made a trip to Valencia – the regional capital.
As a country bumpkin and redneck I have always been content bumming around the Coastal and Inland towns and villages and kept well away from anything resembling what a Brit would call 'normality'.
At about 100kms away – an hour in the car, or an hour on the train – I know from reading various blogs and guide books on the subject that the city has 'lots to offer'. Just if you are into that kind of thing, and as far as I'm concerned when you have seen one industrial Estate, jungle of office blocks and endless traffic, you have seen them all.
I'm actually not 100% certain if it is Cities in general that I don't like, or huge concentrations of people.
But, being the open-minded and non-judgemental kind of guy that I am, I decided to accompany the Mrs on her trip to the smoke to have her 'Ecographica' at the Hospital in the city centre of Valencia. Not only would she remove my manhood if I refused her kind offer, but it would be an opportunity for me to see what all the fuss was about.
I'm sure at this point some travel-blogger* would chip in that I should really have delayed my visit for 2 weeks to take the 'Fallas', but I have 3 points for you to consider here :
1.) The Town of Denia is only around 25 mins from me, and they hold their own smaller version of the Fallas Fiesta each year, so I don't really feel as though I am missing too much here.
2.) I can only be amused by a certain number of 'Mascletas' every year. And, as far as I am concerned, when you have heard one loud bang and seen one gigantic papier mache statue set on fire, you have seen them all.
3.) Hospitals can be a bit a funny about moving appointments around your preferred sight-seeing schedule.
Although this is the year 2012, Man has walked on the moon for more than 40 years, and Spain has spent 930 Million Euros on developing 3 airports that have still not seen a solitary plane land, the train network in my area is woefully inadequate.
Another first for me : catching a train in Spain (which, ironically is where I am typing the first part of my blog as the Mrs is snoozing).
Even though it is one of the busiest and most popular areas of Spain, the Coastal strip of the Mediterranean Cities of Alicante and Valencia are not connected by train. There is about 25km of track which is 'missing' and has been promised to be completed for years now, with no sign of it being completed in the near future. As such to take the train into the city it is necessary to drive 30 mins up the road by car, park up and then catch the train into the city, which stops at every single village en-route.
That said, adding in the hassle of finding and paying for parking, together with the tolls, the train is probably on balance the better option. Parking at almost every (smaller) station is Free and the tickets are next to nothing - I paid 5Euro return for a 45 min journey.
So on arriving at Valencia-Nord we jumped on the Metro for 4 stops to the Hospital.
Now, I don't want to sound like one of those inbred yokels who only has one pair shoes (Which were handed down from his Mum) etc... but I have never been on a Metro in Spain either, so that was another first aswell.
I'm a great advocate of never planning anything in advance, so after the appointment we promised ourselves a few hours wandering aimlessly around the city centre and finding somewhere to get some lunch, to try and get a 'feel' for the city and for the Mrs to try and convince that it was worth coming back to visit at a later date when we had more time on our hands.
[A more than passable menu del dia – even by city centre standards – has now been enjoyed and I am typing part 2 of my experience on the train back. The Mrs is dozing yet again...]
The 'only' three problems encountered were such :
1.) The purchase of the Metro tickets : Machine asks 'How Many Journeys ' – we enter 2 x Journeys (to the Hospital and back) for 2 x People, which was not recognised on the return journey. Therefore needed to buy new tickets – not a happy event , as any tightfisted Yorksireman would be able to tell you.
2.) The age old problem of British logic (and assumption) over Spanish failed us once again : The 'Nou de Octubre' Hospital was not actually located on the Nou de Octubre road, however, there was as Hospital (not of that name) on that road. Enter mucho confusion and scratching of head and running from one end of the city to the other in order to make the appointment on time.
3.) My Phobia of loud and pointless bangs : I can kind of understand fireworks when you have the added visual stimulation of the experience, but 15 mins of endless firecrackers where (and I kid you not) the crowd cheers louder as the decibel-meter records more deafening bangs. I was trapped in throng of apathetic students (I thought it was a protest at first) as this went on for about 15 mins outside the Plaza de Ayuntamiento. It seems that the most indebted of all Spanish regions still knows how to waste money on gunpowder.
Would I come back again at a later date ? - Yes : More than likely.
*Oh, and just to ensure that I am fair to the City, you can read more about what Valencia has to offer, with reference to the 'Fallas' et al by clicking through to Hemmingway's blog, here.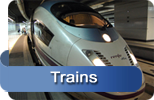 Tumbit Trains
Buying Train tickets for long-distance and trans european journeys in Spain can be a time consuming and confusing experience. Here at Tumbit we have partnered with Rail Europe, who guide you through the entire search and booking process online to ensure that you can plan your journey with peace of mind .