Taking a Dog from Spain to the UK : A personal experience
Maybe I am just a hardened cynic and distrust all these 'helpful guides' too much, or maybe I have lived in Spain too long , and realise that things rarely pan out as the theory dictates, and as such many are worthless anyway...
So, planning a trip back to the UK and needing to take my dog with me, I read up on all the How to take your dog back to the UK guides, so I was confident with how things "should be done" at least. I just had zero confidence that there wouldn't be at least one or two cock-up's along the way.
And as such I have decided to give my personal account and experience of the procedures involved in taking my dog back to the UK.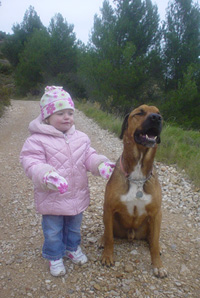 Since DEFRA changed their 200 plus year old quarantine regulations on January 1at 2012 things have certainly become much easier than they were, but many expats are still struggling to get their heads around the fact that they can take their dog back to the UK with them and that there has to be 'a catch' somewhere.
You can read the 'theory' of taking you dog back to the UK by clicking HERE
First of all, I recognise that there are many variables here, as many situations (and dogs) are totally different and as such I can't account for all possibilities.
Here is my experience nonetheless :
1. Dog needs to be in excess of 6 months old : Check.
2. Dog needs to be micro chipped and have an EU Passport showing the chip number : Check.
3. Dog needs to have yearly Rabies Vaccination at least 21 days ahead of date of entry into the UK. (Due to Weekend and Bank Holidays I was 3 days across with my date, but Sr Vetinario very kindly 'arranged things' for me).
4. Tapeworm vaccination – to be given 72 to 24 hours before departure : Check
If you are having your pet shipped across by a professional courier they will usually arrange all of this for you, however if like me, you are going by Brittany Ferries
(Spain – UK ), you will also need to do the following :
5. Book your dog a place on Brittany Ferries
(Dogs are not permitted to ride in the car during the journey and must stay in a designated kennel area on the crossing) – don't just turn up and expect them to be able to accommodate your pet as you may be turned away. This place should be booked at the same time as you & your vehicle. You can not take a dog onboard as a foot passenger.
6. Buy the appropriate sized muzzle for your dog. It needs to wear one as soon as you arrive at the Ferry terminal and until you are able to settle it in its kennel on Brittany Ferries
. Again, a dog without a muzzle may be denied boarding.
7. Although it is not a requirement of customs & immigration, or of Brittany Ferries
company, it is a requirement of the Guardia that your dog is travelling in your car securely. This can either be via a harness, a cage, or a dog-grille.
Approx costs :
Some or all of these costs may apply ...
* Obtaining a Micro Chip and passport - 80 Euros
* Rabies Vaccine - 40 Euros
Tapeworm Vaccine - 40 Euros
Kennel Charge for Brittany Ferries
(Spain-UK) – 37 Euros
Muzzle - 8 Euros
Car Harness - 8 Euros
(* These costs did not apply to me as I already had my Dog Chipped, and the yearly rabies vaccine was due later that month regardless of whether I was going to the UK or not)
The whole process was quite easy and stress-free (for me and the dog) and I was able to visit him at a designated time during the crossing to feed him, which helped.
The DEFRA website was accurate and up to date, but I found that it contained so much information about so many variables and possibilities that it was difficult to work out which parts were relevant to me and then digest everything.
It is nowhere near as complicated as it was prior to 01.01.2012, and nowhere near as expensive. Hopefully this will help put an end to the high number of pets being abandoned by expats leaving Spain to return to the UK.