Anybody who has read 2 of my earlier blogs on the subject of Ryanair will know the extent of my hatred of the airline and the standards of so-called 'customer care' that they offer.
Once a year my partner and our daughter fly back to sunny Bournemouth, leaving me behind in Spain with a list of jobs as long as your arm and with the responsibility of looking after the dog and doing the Airport run.
Given that Bournemouth airport is only slightly larger than my front room it only has about 6 flights a week from 2 airlines. Flying with a toddler also meant that the times were more attractive with Ryanair than with the others.
This is where I got too confident, over-reached myself and shot myself squarely in the arse…
My mother wanted to come over for a few days and would be flying in from Manchester. We decided that it would be sensible to choose her flights so that I could do 2 airport collections at the same time. Two for the price of one, easy as….
I had only read in the news the day before the said airport collection run that Ryanair (God bless them) were under fire for dropping off a plane-load of unsuspecting tourists on the wrong Canary Island. Apparently they were left without any representative to apologise or advise them how to get to their chosen destination, so I should have taken that piece of news as an omen.
My mother had texted me to tell me that her flight was running 20 mins late due to a French air traffic strike ( Like a DFS Dining Furniture sale, one a week… ) and so I checked on-line with Ryanair to see how the flights were running. Over the coming 12 Hours just 4 Flights were listed as 'Delayed' and as all of these flights were either to or from France I wasn't too worried.
On arriving at the Airport I was surprised to find my Mother waiting there and she told me that the Pilot of her flight had managed to circumnavigate the majority of French airspace and than manage to negotiate a short cut for a small distance across the Pyrenees into Spanish airspace, thereby making up the 20 Minutes that they thought that they would be late.
2 Minutes later the phone call came in from the Mrs - Ryanair had cancelled the flight due to the very same 'French Air Traffic Control strike' ( Funny, it didn't cause my Mum's airline too much of a problem !) and that the next flight she could book in on was in 4 days time ! Compensation would not be forthcoming because the cancelation 'was not the fault of the airline' (Er… maybe the Strike wasn't, I agree, but failure to find any kind of solution was!) - So in addition to my Mum having a largely wasted trip in not being able to see her grand daughter, time and petrol money being wasted for a second Airport run, and the Mrs needing to take an extra 4 days unpaid holiday off work, tempers were running high.
I accept that things don't always run smoothly and that the strike was in no way the fault of Ryanair. My point is this – If one ' Non-Budget' airline can manage to find a solution to what is essentially a minor problem with hardly any fuss at all, why can't another ? Maybe it's because the cost of the service is cut so close to the bone that there isn't even enough for a few litres of fuel in the tank to take even the slightest of detours in airspace.
The difference in the cost of the 2 flights with A.N.Other airline (After taking into account the various stealth taxes) was less than £30. That would have more than covered the additional unpaid days off work, the extra petrol and tolls and all the stress and hassle!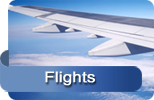 Tumbit Flights
Regardless of where you live or your reasons for visiting Spain, the whole process of searching for the cheapest and most convenient flights for you and your family can be time consuming. That's why here at Tumbit we have partnered with Cheapflights, who search through hundreds of available flights every day to find the best deals for you.