How NOT to hire a car in Spain
I never thought that hiring a car could be so stressful or so complicated.
My Dad came to Spain to visit us last week, and for a change decided he would stay in a Hotel on the coast a couple of miles away. Normally, when he stays with us he doesn't need a car, but this time he asked us to book one for him over the internet as he doesn't have internet access.
Granted, it was at half past eight in the evening before he flew at nine the following morning when he called me to ask me to do this for him, but knowing that the Internet is a 24 hour phenomena, I was unperturbed. Naturally, I searched the net for the best possible deals to be had and was pleasantly surprised to find an offer for an economy range car for a little over 120 Euros for a week and so used their on-line booking engine to make the reservation.
Or at least I thought I had. I received an e mail minutes later informing me that my booking request had been received and that I would receive another e mail "in a few minutes" to confirm my request. By 10 o'clock the following morning I was getting concerned - my father was already on the flight expecting to be able to collect his vehicle and there was still no sign of the booking request.
After numerous calls and what seemed like an eternity of letting the phone ring, a customer services operative finally answered the call and confirmed that the vehicle was available and gave me a quotation and booking reference. So far, so good. I texted the details over to the old man so he had everything to hand when he stumbled off the plane.
The plane landed at 12.15 and he was travelling with just hand luggage, so I was expecting him to be knocking on my door en-route to his hotel at around 2.30 ish. At about 2.00 I had a call from him telling me that even though he was the first person off the plane he found himself in  ridiculous queue for 1 hour, and on finally reaching the front of the queue he was made to wait a further 20 minutes as they did not recognise the reference that the girl in the call centre had given me.
After finally deciding that his booking was in the system they declined to take his card due to it being a Maestro debit card and not any other. He called me for ideas  - Pay cash, I suggested. Nope, they needed a card for security purposes. Take my credit card details, I suggested. Nope, the card need to be physically presented to them.
After a few expletives I told my dad to go for a quick coffee whilst I searched alternative car rental companies that may be a little more flexible. Finding a company that had the availability and would accept either my card in absentia or a Maestro card AND weren't charging the earth seemed an impossible task. We finally accepted that we would have to travel down to the airport to meet him and rent the car on our credit card with him as a named driver.
So with credit card and drivers licence checked, my partner set off down to the airport to meet my dad.
By the time she eventually reached the airport it was just past 5 o'clock, so my dad was looking forward to getting checked into his hotel and relaxing for a bit - as were we.
My partner finally met my dad at the car rental desk and presented her credit card and drivers licence in order that we could get everything finally back on track only to be asked to present her passport as proof of ID. The drivers licence was proof of ID, she protested, and In any case was a Spanish resident and had not travelled on a plane - just collecting the car from the airport. My Dad (one of the named drivers) had his passport (but no Credit credit card) would this be acceptable ?
Clearly not.
So the answer was to come away from the airport sans car, and search for an alternative car rental closer to home, but with a one-way surcharge for having a different collection and drop-off point. Add this to the fact that the Hire companies in the resorts charge a premium, together with our petrol and motorway toll costs and the "cheap car hire" actually ended up costing us a fortune.
I know that if I had been there myself I would have ended up being shot by airport security.
So the moral of the story ? - Shopping around for the best price ain't always the best solution in the long run - cost and value are two completely different things. And whilst I'm not going to mention the name of the rental company I just want to go on the 'Record' as saying I will never use them again !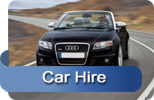 Tumbit Car Hire
Whether you are based in Spain and looking for a Car to Hire for ar return trip to your home country or planning a holiday in Spain, searching for a suitable deal can be a time consuming affair. Here at Tumbit we have partnered with Cartrawler, who search through over 100 rental companies in thousands of different locations to find you the best deal available for you.