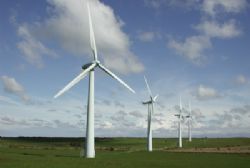 It might sometimes seem idyllic to live in a Rural Finca, miles off the beaten track and Far from the Madding Crowd, and quite often it is some weeks after making such a purchase that you come to realise that you haven't given much thought to how your energy requirements will be addressed - if indeed at all.
It can often be the case that the nearest Electric supply is some miles away from you - and in many cases connection to the Main electricity supply can cost you upwards of 5000 Euros Per Post (Per 100mts) on top of your monthly consumption charges.
There are alternative sources of energy that will allow you to live "Off the Grid" that you may wish to give some thought to ....
Generator - Costly but reliable and convenient, They are nearly always run in conjunction with another alternative ( renewable ) energy source so that you can keep your batteries topped up for as long as possible and take advantage from a cheaper source of energy for as long as you can. Newer models of generators are becoming cleaner, quieter and more efficient than the Generators of old.
Geothermal heating - (Also commonly referred to as 'Ground Source' ) Despite it's scientific name, it's actually a really simple idea: Geothermal energy lets you use the Earth's natural energy to heat your house in the winter, your pool in the spring and autumn and keep your house cool in the summer. Sounds pretty good! So how's it done? The Earth's core is still red hot - as we see when volcanoes explode. In countries like Spain, the top surface also retains the Suns heat for several meters. Engineers have come up with a way of harnessing this natural heat for household use. They bury pipes underground in a trench; water is pumped through them and heated by the natural heat underground. A heat pump is then fitted, which transfers the heat from the ground to your home to heat it in the winter and your pool in spring-autumn. In the summer the pump can reversed to take the heat away from the house back into the ground to keep rooms cool and airy.
Air Source Heat Pumps - Similar to Geo-Thermal, this system uses the latent heat already present in the ambient air outside your property. Air Source uses a compressor, refrigerant gases and an evaporator to take heat from outside your property and multiply it several times to provide you with hot water and heating. Put simply, it is a refrigerator working in reverse and can often prove to be a cost-effective alternative to Electricity (for heating & Hot Water) when sized correctly.
Aerothermal Heating - If you do not have sufficient land for a geothermal heating system, an aerothermal system might be of interest. Aerothermal turbines harvest low-grade energy from the air - imagine a large refrigerator running backwards. The pump then converts that energy to heat, which is used to heat the water circulated in under-floor or radiator based central heating systems.
Solar - A Popular choice for providing heating water, but can be costly to install and maintain.
The EU is keen to promote the use of all renewable energy sources and so reduce our carbon footprint. As a result, there are a variety of grants and financial support packages available to those who chose renewable energy. It is important to recognise that grants are only offered to those systems recognised by the EU As of September 2006 all new builds and renovations throughout Spain are required under legislation to incorporate solar hot water.
When you decide upon an alternative energy source (or sources) it is important to obtain a number of quotes from reputable Installers and ask if they are able to assist you in applying for assistance in either financing the project or obtaining a grant from the EU. In many cases they will undertake this work for you (it costs them nothing to do this, and if they succeed then they gain a Client!)