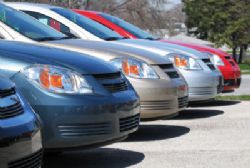 Generally, Car Hire companies in Spain require the driver to be at least 22 years of age– rising to 25 years for certain models of Car – and almost all companies also have an upper age limit of 65 years. All drivers are required to produce a current driving license and non-EU drivers need to bring an international driving license. In all cases all of the drivers' names need to be shown on the rental contract.
The largest car hire companies have offices in most cities, larger Towns and at nearly all airports. Whilst the larger companies will be able to offer the most flexible packages (such as different collection and drop-off points) it is more often than not that the smaller, local companies can offer the most competitive rates. If you are visiting Spain it is always best to reserve a hire car before arriving, especially during peak periods when it will be almost impossible to simply turn up at the Airport and expect a vehicle to be available.
Pricing
The costs for Car Hire in Spain is comparatively cheap compared to other Countries, and this is due mainly to the amount of competition, with an abundance of special offers available during off-peak periods. The rates between the larger international companies don't vary too much, but offers are usually available for booking on line, booking above a certain number of days, and so on. One of the advantages of using one of the larger companies is that you can hire a car in one town and drop it off in another (although this often carries a surcharge), However the cheaper, local companies often require you to return the car to the office you got it from or to the local airport.
It needs to be said that some of the cheaper and less reputable hire companies scrimp on maintenance and repairs, and this can sometimes result in safety issues. Always carefully check a car (e.g. for body damage and to ensure that everything works – point any concerns you have out to the representative) and the rental contract before setting out.
You will find that some companies have special offers for weekend hire, e.g. from 4pm on Friday to noon on Monday, and for periods over 2 Weeks. When comparing rates, check that prices include insurance and taxes (VAT at 16 per cent), that insurance cover (including personal accident) is adequate and that there are no hidden costs.
You should also check the cost of any extras that aren't included in the basic price, such as collision damage waiver/CDW ( cobertura de daños por colisión), theft cover ( cobertura contra robo), personal accident insurance/PAI ( asistencia por lesiones personales), airport tax ( cargo de aeropuerto), roof rack, baby seat, air-conditioning, and additional drivers. Some companies don't offer unlimited kilometres ( kilometraje ilimitado), which usually works out more expensive unless you plan to drive only a short distance. If required, check in advance that you're permitted to take a car out of Spain, e.g. to France or Portugal, as you may need extra insurance.
If you intend to travel around Spain, you should ensure that you have sufficient power for mountain driving, e.g. at least a 1.6 litre petrol engine or a 2 litre diesel engine for two people and their luggage. If you're going to be doing a lot of driving in summer, air-conditioning should also be high on your list of priorities.
Unless you're paying by credit card at the time of reservation, many companies will ask you to pay a high cash deposit - in many cases the full amount will be asked for in advance ! When you do decide to pay by credit card carefully check both the contract and the Invoice to make sure that the amount is as you expected it to be and that it does not show any unexpected or hidden charges.
Must Read :
* 20 New Spanish Road Traffic Regulations Scheduled For Approval June 2014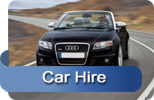 Tumbit Car Hire
Whether you are based in Spain and looking for a Car to Hire for a return trip to your home country or planning a holiday in Spain, searching for a suitable deal can be a time consuming affair. Here at Tumbit we have partnered with Cartrawler, who search through over 100 rental companies in thousands of different locations to find you the best deal available for you.