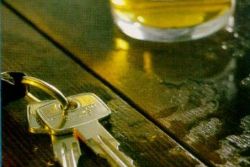 Driving whilst under the effects of alcohol is something that is taken very seriously in Spain and is similar to other Countries of the EU, where the limit over which driving is an offence or the length of suspension and imprisonment terms.
In Spain, the usual penalty for being caught driving under the influence of alcohol carries with it a minimum period of 12 months driving license suspension and a fine or imprisonment over at least one weekend. This is over and above any other motoring offence being committed in conjunction of being caught driving whilst under the influence.
Spanish Motoring Legislation States the Following :
1.) Anybody found driving a vehicle under the influence of toxic drugs, narcotic substances or alcoholic beverages will be sentenced from 8 to 12 weekends imprisonment or a fine from three to eight months and a driving license suspension between one and four years.
2.) Anybody refusing to submit to any Police Officer requesting tests for the purpose of verifying the facts of the preceding article will additionally be charged with the offence of grave disobedience.
3.) Anybody who is caught driving a vehicle with blatant carelessness whilst under the influence of alcohol - and who represents a serious danger to the lives of people - will be receive a prison sentence of between 6 – 24 Months, and a driving license suspension between 1 and 6 Years.
What to do if caught driving under the influence of alcohol :
It needs to be said that this is obviously a serious criminal and motoring offence and everything should be done to prevent finding yourself in this situation in the first place. However, if you are involved in a roadside test for alcohol, you are advised to behave appropriately and appear to be as sober as possible. Let the officers do their job and show them respect as your conduct at this time will be reported in any resulting court appearances.
If you should be found to be driving over the legal limit then you should seek appropriate legal advise from a lawyer as soon as you can.
Your lawyer will look over any procedural defects in the case, issues concerning evidence, looking at things like calibration and maintenance records for the testing equipment itself, obtaining independent analysis of any blood samples taken, negotiating for lesser charges for pleading guilty, preparing expert witnesses for any resulting trial, and so on…
If you have been arrested and as a result appear in court, there are a number of questions your lawyer may ask you in order to improve your chance of obtaining a further hearing.
Must Read :
* 20 New Spanish Road Traffic Regulations Scheduled For Approval June 2014
- The law states "The accused should be aware that he has the right not to declare against himself, since perjury/false testimony is not applicable to a confession", which basically means that you can tell your own version of the truth !
** Click HERE to read changes to Spain's Drink Driving laws effective from 27.07.2013.