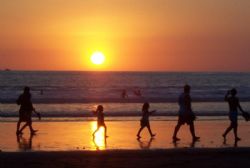 ... Or, in most cases - "Do I really need a Life Insurance Policy on top of all my other outgoings ?" ... Everybody has an opinon on the debate about Life Insurance - and the much asked question from the younger generations is often "Why pay good money out when you are alive and well, that you are never likely to benefit from?"
It is, of course, mainly when one gets older – perhaps with a family or other responsibilities – that the peace of mind that the payout from such an Insurance Policy can provide becomes an attractive solution in looking after your family once you have gone.
The Different Types of Life Insurance
Life insurance policies can be taken out for either:
A.) Term Insurance - Which is usually for a 10 or 20 Year period.
>> Click HERE to get your Term Life Insurance Quote online today !<<
B.) Whole of Life Insurance - Which runs for the duration of the policy holders life
Term insurance Is often referred to as "level term insurance" as premiums are calculated at the start of the policy and remain the same year upon year throughout the period of cover. In Spain, the premium is adjusted on a yearly basis taking into account the age of the insured person at the policy renewal date.
Such policies are often taken out to provide for protection of the family in the event of one of the parents dying so that enough funds are there to pay for the overall living expenses and to make life in general as comfortable as possible.
A mortgage protection plan – otherwise known as decreasing term insurance is often taken out to cover any outstanding mortgage or loan repayments and is one of the most popular types of life insurance. Here, as the mortgage repayments are made and the loan decreases, the amount of cover decreases to reflect these payments.
Key man insurance is often taken out by companies to help financially in the event of the death of an essential member of the company, and as such rarely effects the man in the street.
On the death of the life insurance policy holder, for all of the above types of cover, their named beneficiaries are paid out by the insurance provider.
Other types of insurance
Savings plans - Generally used to save sums of money which gain interest or increase in value when placed in appropriate investments. These can then be cashed at any time to provide a lump sum.
Pension plans - Often Tax efficient and in view of the amounts available on most state pensions should be considered as they provide additional funds in the retirement years.
How to Use Life Insurance
Taking out a Life insurance Policy is by no means something that is legally necessary, However many banks and mortgage lenders often require that such a policy is taken in order to guarantee the repayments of any loan that is issued. A medical examination may sometimes be required and, along with age, decide the amount of cover required and the premiums to be paid. The cost may or may not be met by the cover provider
Almost all Insurers have a one or two year exemption of payout for the victims of suicide in order to try to prevent people taking out insurance with this intention in mind.
It is also well documented that the cost of funerals in Spain is increasing at an alarming rate – especially for expatriates. Some insurers provide additional cover for funeral expenses or funeral expense plans, and these are relatively inexpensive and very easy to arrange.
Upon the death of a policy holder, beneficiaries can claim on the policy. All they need to provide is a valid death certificate the policy document and proof of their own identity. There will often be a small payment made immediately upon claiming whilst the paperwork and documentation is being processed.