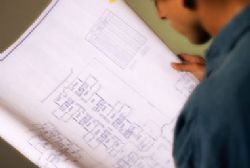 With building restrictions in Spain at their most restrictive than ever before, especially for anyone living in the countryside looking to build an extension, you maybe considering to build or transform your underbuild.
Invariably building or transforming an underbuild into a seperate 'granny flat' or apartment will not only add value to a property, but also provide more living space or seperate accomodation for visiting family and friends, in addition to the potential of earning a decent amount of money by renting out the accomodation to tourists during the holiday seasons.
Almost anyone that has newly arrived in Spain and has either bought, or is thinking about buying a Villa, will have doubtlessly looked at the large area that most Villas have, situated underneath the house and the cogs have kicked into motion.
Unfortunately it's not as simple as a lick of paint and hanging a few doors - things in Spain rarely run as smoothly as you expect them to – and this is no exception!
Before you commit to any project of such a magnitude it is important to address a number of issues :
The Practical Stuff
You will need to take a look around the space that you have and consider the following points ....
• Is there sufficient Headroom, or will the floor level need to excavated ?
• Is there sufficient natural Light, or is it possible to make additional windows on the external walls?
• Is it excessively damp? (Underbuilds are by nature almost always damp and walls should be tanked as a matter of course – so don't be alarmed if there is a little)
• Have a rough idea of a floorplan – is the space useable and practical?
• Is there good access to the proposed apartment? Will it be separate and private from the main house?
• Will it require noise insulation ?
Once you are clear with those basic questions it is advisable to get a quality and reputable builder involved that has experience in transforming underbuilds. In many cases they will be able to show you examples of their previous work and point out considerations that you may not have thought about.
Regulations
You will need to apply to your local Ayuntamiento to obtain a " Licencia de obras mayor" - major works licence or technical project – and this application must be accompanied with plans that have been drawn up by a qualified Spanish Architect..
In order to get the correct licence you will need to contact a variety of people including Architects, Solicitors, local Town Hall/Urban Department officials, the Tax Office and Registrar's Department. The fees you will need to pay are dependant upon the licence you require and each council area varies slightly on building regulations and fees.
REMEMBER - To sell your house at a later date all the necessary licences need to accompany your escritura. Banks are reluctant to lend on properties without the legal licences, so it will be difficult to sell your house at it's true value at a later date if your underbuild is not transformed Legally.