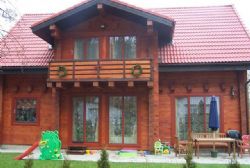 With more and more people choosing to build their dream home in Spain as opposed to buying a resale property, it is perhaps not surprising that they are drawn to considering a wooden home as a cheaper alternative. But when building a wooden house all the same rules of buying a house apply - and more besides!
As with building a more traditional house, there are many regulations and restrictions on the use of your land in Spain, such as the amount of land you need before you can build, and areas of land that are protected.
As soon as you make the decision to buy a plot of land and construct a wooden house then you should appoint an experienced lawyer and seek out a reputable Estate Agent. If you will be using a builder for any stage of the construction it is advised to go and have a look at examples of their workmanship, as this gives you a good indication of their skills and the quality of the material of construction that they generally use.
As with any new build construction, you should not pay for the whole amount for the house in one lump sum, and instead agree on staged installments. First the Purchase of the plot of land, then for the foundations, connection of services, walls and roof and the finally the finished house.
An Alternative to a Traditional House?
If you have never entered, or even considered a wooden house before then you would be surprised how luxurious many of them can be. The use of space and light, and the quality of the materials of construction is in many cases as good as – if not better than – many traditional resale properties.
It should be remembered, that despite what any Estate Agent or manufacturer of these Houses tell you, that you will require the services of a fully qualified architect and a full building permit in order to legalise your project.
The guarantees provided on these properties by the manufacturer often varies, so this should be something to check early on in your negotiation. The actual construction by the builder should then have the 10-year guarantee as required in Spain (assuming that you choose to appoint your own builder – some manufacturers can take care of the construction 'in house').
Wooden Houses have been around for a while in Spain, but their popularity has grown recently. As such you should seek out a reputable and well established manufacturer and not just some builder or joiner who has recently decided to diversify.
A question that is often asked by potential buyers and owners is the appreciation or depreciation value of properties of this type. The reality is that the market in Spain is still reasonably new and therefore has not matured sufficiently in order to make any valued judgment on this yet. In many other countries of the world where these houses are popular resales appreciate as much, if not more than more traditional houses.
Some of the benefits of a wooden house is that they are great insulators of temperature and therefore generally easier to keep warm in winter and cool in the summer. Wood does not absorb moisture in the same way as bricks & mortar and so it is easier to keep free of damp, which also has it's own health benefits. Wooden homes also are designed with extended overhangs from the roof, which provide extra shade in the summer and greater insulation when the sun is lower in the winter.
Building Permits
It can be difficult to find reliable advice, and some unscrupulous Estate Agents or Manufacturers may try to tell you that you will be able to build a wooden house on the rural plot of land that you have just bought. Depending upon the classification of the land and the Town Hall whose jurisdiction it falls under, you will not be able to get a permit if you have less than 10'000 , and in some cases 25'000 mts.
This will essentially mean that your land is useless, except for agricultural use and that you will not be able to build a home on it.
The aforementioned Unscrupulous manufacturer or agent may try to tell you that a prefabricated wooden house can be shipped to your land in pieces and assembled on site and therefore no permits will be necessary, because you are not really building anything. The reality is that you will need a good solid foundation, and the connection of some services – and you WILL need a building licence to be able to do that – so essentially the same rules apply.
You can 'live' on your plot of land for a given period of time in a Caravan (if it has wheels on it and is therefore 'temporary') as this will not need a foundation, nor will it need to be connected to mains water or a septic tank.
In order to successfully apply for the required building permit, you should obtain a set of architect's plans and approval from the College of Architects (who authorises building plans before they can be submitted for licences) when the houses are made of stone or wood.
There is a very grey area that most Ayuntamiento's and their town planners admit to concerning wooden homes, for example when considering a wooden shed, or 'Casita' for agricultural purposes on a plot of land.
Regulations vary between the municipalities, but such Casitas can usually be no more than 60 square metres and must not be used for habitation. People who build these Casitas are granted a permit on this understanding. If they should later extend the Casita, modify it any way or try to make it a home then they are in breach of their permit and therefore the property is illegal.