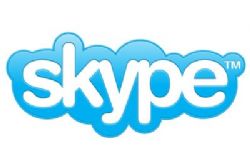 Skype is essentially a free piece of software for your PC that can be downloaded from the Internet. The whole process is both quick and easy, and once installed you just need to register a user name, which can be your name or a nickname. However, as with a telephone number, your user name has to be unique and as such your preferred choice may already be in use by somebody else – if this is the case you will be given a number of suggested alternatives.
Once this has been done you can search for your friends (who also need to be users of Skype) and invite them into your contacts list. Once they have confirmed that they know you, their user name will show in your contacts list and you are then able to make contact with them.
Skype can be used in a number of different ways, and as long as you have an Internet connection, some of the Skype services can be used completely FREE OF CHARGE.
Here are just some of the things that you can do with Skype :
• Messaging - You can send and receive messages with your contacts. You are also able to attach Photo's and Files to your messages. If your PC is switched on and you are logged into your account (You can set this to be done automatically when you start up your PC) then any received message will automatically flash onto your screen with a 'popping' sound to alert you. If your contact is not online the message simply waits for them and will be delivered when they are next online. This is one of the FREE services.
• Web Cam - If your PC has an integral webcam and microphone, or you have bought separate stand alone units, you can choose the 'Video call' option that appears once you have opened up your chosen contact's page. Clicking this option will initiate a dial tone, as with a telephone call, which your contact can choose to accept or decline. Once accepted, just think of this service as a phone call with the benefit of being able to see who you are talking to and you can even link up with other Skype users at the same time. This option is obviously something that is invaluable for communicating with small children and is another FREE service.
• Skype to Phone - If the person that you wish to speak with does not have a skype account you have the opportunity to 'call phones' and can simply type in the telephone number that you wish to contact and then continue exactly as you would with a telephone call. This is NOT a free service and you would need to charge up your account with credit before using this, but the costs are very competitive when compared with other providers.
• Skype to Text - You can send an SMS Text message to a mobile phone in exactly the same way as you would type a Skype message. This is also NOT a free service.
• Skype Divert - You can choose to have any incoming calls and messages diverted from your skype account (when you are away from your PC) to your mobile phone. This is popular with Business users and is NOT a free service.
Skype is a popular and growing means of communication, and with many PC's and Laptops now being built with integrated webcam's and microphone's it means that all you really need to do to get started is to have an Internet connection and to have the software downloaded. What have you got to lose ?