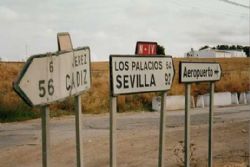 Assuming you have now either legally imported your UK Car or Purchased a Spanish Car over here, you will need to familiarise your self with the law with regards to driving over here in Spain.
In Spain it is essential to have these documents with you in your car at all times:
Driving licence
Permiso de Circulación
Fichas Technicas
Proof that your Impuestos de Circulación has been paid
Valid Insurance document
(Note: All of the above Must be originals, so keep a Photocopy at Home!)
NIE or Tarjeta de Residencia and a photocopy of your passport
Luminous yellow Jacket (inside the car, not in the boot !)
Two warning triangles
Spare glasses (if you need them for driving)
(Until recently it was also a requirement to carry a spare tyre and the tools to replace it, however the increasing popularity of runflat tyres had forced the requirement to be withdrawn)
Failure to provide any of the above will result in an automatic 'on the spot' fine by the Guardia (Who do stop and check on a regular basis and make on the spot cash fines - If you collect a number of these penalties your vehicle can also be Impounded there and then!)
Here are just a few basic traffic laws, that you will need to be aware of...
A stop sign in Spain means stop. It is not acceptable to roll over if there is nothing coming. You must bring your car to a complete stop. (150 euro fine and three points)
You must not use a mobile phone while driving. (150 euro fine and three points)
A left turn across an unbroken white line on a national road is illegal. (150 euro fine and three points)
Overtaking on the right on an autopista or dual carriageway is illegal. (150 euro fine and three points)
The drink drive laws are strictly enforced and the level (0.25) is much lower than the UK.
The wearing of seatbelts (front and back) is compulsory.
Children under 12 cannot travel in the front seat unless using a suitably adapted restraint system.
It is compulsory to use the left indicator to tell other road users that you are about to overtake.
It is compulsory to use the right indicator when pulling back in again. Failure to use both indicators when overtaking could result in an 'on the spot' fine.
All driving schools in Spain teach their pupils to 'touch park' they will pull into a parking space and keep going until they bump into the car behind. That tells them it's time to select first gear and move forward. It's perfectly normal and acceptable, so try not to get annoyed if you think that a local has shunted your new car!
If you are driving a Spainsh registered car, you should be in possession of a Spanish driving licence. Your UK/EU photo licence is technically valid but it is so much easier to be able to present complete Spanish documentation as it saves any confusion. (However an international model is valid)
The average Traffic Officer, both in Spain and in the UK, would probably not be aware of the finer points of EU law regarding number plates and driving licences and you would almost certainly escape a normal roadside stop. However, it all goes pear shaped in the unfortunate event of being involved in an accident. At this point your insurance company enters the picture !!!
The first thing to bear in mind is that in the small print of most insurance companies there is a clause which will automatically drop the level of cover to basic liability as soon as the vehicle leaves the country it is insured in.
If you are in any doubt as to the level of cover you have whilst you are outside the UK you should ask for a letter from your insurance agent stating that your underwriter is fully aware that you are living permanently outside the UK and is prepared to carry on insuring you on UK plates, on a car with no Tax or MOT, in a foreign country on a fully comprehensive basis. Once you have that letter, keep it with you at all times – and Keep Copies!
The second thing to remember is that any insurance company, when faced with a potentially large claim, will search for anything they can to avoid paying out and that would include incorrect documentation!
Consequently, once your insurance company has cancelled your policy because of incorrect documentation, the Police would then re-enter the picture as you would have been driving without insurance!!!!!
Remember the advise that the 'Friendly' expat gave you in the Bar last week, and how knowledgeable he seemed about the various loopholes concerning driving in Spain? - It always pays in the long run to do things properly.
Must Read :
* 20 New Spanish Road Traffic Regulations Scheduled For Approval June 2014