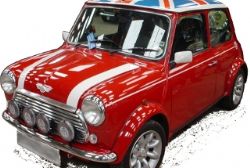 When moving to Spain a lot of people quite naturally weigh up the pros and cons of bringing the car that they had in the UK over with them. Sometimes the obvious thing to do is to stay away from the additional expense of buying a new Spanish car when you already have a perfectly good English car that you can also use to transport some of your things over with.
This can be a good decision if you are uncertain about your stay in Spain, however, you may come to question the sense in this decision when you have been in the country for six months, and intend to remain here.
The law states that at this point you are required to legally import your UK car and this involves a procedure with the 'Jefatura del Trafico' that can cost you as much as 1,000 Euros when you have included Gestor fees, Import taxes and any new headlamps that may be required.
Your choices at this point are three :
1) You comply with the law and go through with Legally importing your car
2) You take your car back to the UK to ret to sell it.
3) You do nothing at all and take your chances with the authorities.
4) You try to sell your UK vehicle in Spain and buy a Spanish vehicle.
The first three options speak for themselves, so we will discuss the fourth option...
Your car has been in Spain for over six months you may or may not have declared it as being exported from the UK. Likewise you may or may not have declared it as being 'SORN' with the DVLA in the UK.
NOT having a valid UK tax disc on a UK Car in Spain may seem unimportant, however, the DVLA in the UK have wised up to the fact that this means that a car is being driven on a road in the EU without paying road taxes in either the UK or Spain. As such they have regular patrols in major Cities and Coastal resorts that check UK cars for tax. Those that are not showing any valid tax disc are fined, in some cases confiscated, and reported to the Spanish authorities to force the legal importation of the vehicle.
If you should choose to sell your car here in Spain then you should do the following :
• On leaving the UK you 'should have' notified the DVLA of the permanent export of the vehicle ( The purple part of the V5 document – part V5C/4 ) - If you haven't done this then just fill in the V5 as you would in the UK (make sure that the new owner gives you a UK address to register it to) - take responsibility yourself for ensuring that this gets sent to DVLA in the UK.
• To ensure no comeback to yourself you should also keep a photocopy of the completed document
• Diarise to contact DVLA after around 7 – 10 Days to check with them that their records indicate that the vehicle is no longer your responsibility.
If you have been unable to find a buyer for your car in Spain and are unwilling or unable to make the journey back to the UK to sell it then you may need to take the extreme decision to Scrap your UK vehicle in Spain