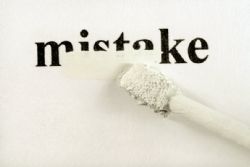 Chances are that if you have been seriously looking at buying a property in Spain for any period of time, that you already know who the AIPP are, or at the very least have seen their logo attached to various member websites. As a respected association representing the interests of buyers of overseas property, it's worth listening to any advice that they may have.
You only need to read the countless guides, magazines and websites that there are concerning buying property overseas to get a good idea of what you 'should be doing' as a buyer of overseas property - but what about all of the many things that you 'shouldn't be doing' ?
Listed below are the AIPP's Top Ten of things 'NOT to do' :
1.) Use a lawyer whoís also working for, or has a close relationship with, the agent or developer. Not only is it vital to use a lawyer, but make sure the one you choose is independent and has no confl ict of interest with the agent or developer from whom you are buying.
2.) Confuse a lawyer with a notary. Easily done, as notaries arenít part of the conveyancing process in the UK whilst in most popular overseas destinations they must, by law, rubber-stamp all property transactions.
3.) Sign a contract without independent legal advice. This is especially crucial when buying an off-plan property and during inspection trips, when you might feel pressured into signing something. A good lawyer will always be available by email/fax to check a contract.
4.) Rely on something unless itís in the contract. Rental guarantees, in particular, are often promised verbally but strangely absent from the contract. Ensure your contract is watertight.
5.) Turn a blind eye to additional buying costs. In some countries taxes and fees can add another 15% on top of the purchase price Ė bear this in mind when budgeting.
6.) Ignore the effect of fl uctuating exchange rates. Remember, the buying power off your Pound decreases or increases as the value of the Euro or Dollar fluctuates.
7.) Overstretch your finances. Itís a dangerous strategy to rely solely on rental income to cover your monthly mortgage repayments. Always have funds in reserve.
8.) Ignore the local taxation system. Get advice about your tax obligations and never assume things are done the same as in the UK, especially when it comes to inheritance issues.
9.) Under-declare the purchase price. It was common practice on the Continent and some locals still consider it acceptable BUT donít be tempted Ė itís fraud and could land you behind bars.
10.) Let your heart rule your head. The vast majority of overseas property purchases run smoothly, but your dream property could soon turn into a nightmare if you fail to do your research and safeguard your own interests from the outset.
Before you dismiss this list as basic 'common sense' issues that are not telling you anything that you don't know already, please do this one thing : Speak to any expats you know, check the various website forums that there are out there - I guarantee that the majority of buyers of Spanish properties will have done at least one of the above. Learn from their mistakes.
The AIPP have written a detailed guide to buying property overseas which can be download by clicking - here