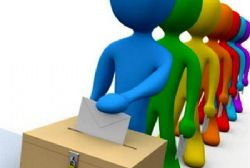 I am unavoidably absent on Voting Day so I will have to be a postal voter. What do I do?
This is a complex process so it is always best to try and vote in person if at all possible. If you know you cannot attend in person, you will need to vote by post.
The forms for postal voting are now available in most major Post Offices (Voto por Correo - Solicitud de Certificacion). You do not need to profuce any identificatio at this stage although it is always wise to take some! You can collect more than one at a time.
However, once completed, they will have to be returned individually, in person, to the Post Office, with ID (NIE or Passport or Certificate of Residence - whichever you ticked on your form ). You will also need some form of ID with your photo on it, like your Passport or Spanish Driving License. You may want to use your Passport as ID anyway. They will need your signature to match to the original one on the form.
The Post Office will post the form on for you in an envelope which they provide. Once the form is submitted, you will not be able to vote in person in the 2011 Local Elections.
This is only the start of the process.
You will receive by certified post (in your apartado, if you have one) the voting papers for all the parties standing in the election with the different candidates listed, an instruction sheet, the electoral envelopes, a certificate of inscription and an envelope with the address of the polling station sheet. For the 2011 local elections this will be between May 2nd- 15th. Again, you will need to sign a notice of receipt and provide proof of identity at the post office. No-one else can collect the papers on your behalf - you must do this in person.
This process has to be completed no later than 10 days before Voting day. When you have collected the papers, you will then have to select the one voting slip of the party of your choice which must not be written on. You must put this into the voting envelope which must be sealed. This envelope, together with the certificate, must be placed in the envelope addressed to the polling station and sent by registered post (no stamps needed) one week before election day (but it would be foolish to leave it this late, given the vagaries of the Spanish postal system) . Again, You will need to provide proof of identity.
This all takes time (this is Spain, after all!) so it is vital you get your postal voting application form(s) as soon as possible to avoid missing the deadline.
What happens if someone is too sick or disabled to be able to vote in person?
The postal voting form has a section on the second half of the page which covers those who cannot vote in such circumstances.
In this situation, sick or disabled persons can nominate someone else as a representative to vote on their behalf. The sick or disabled person needs to have a medical certificate, and the application has to be authorised by a Notary or Consul. A representative has to be named who will need to fill in and sign the form in order to vote on his/her behalf. Travel by a notary to the home of a sick or disabled person is free of charge. Individual forms must be filled out if there is more than one sick or disabled person involved. A representative can only act for one voter. Braille documentation is available.
The exact details may vary slightly from town to town and as such this should be considered as a guide and not a definitive procedure.
Click here to read How to vote in person in the Spanish Elections.
Original source : Linda Arthurs Abusos Urbanistico Lliber No