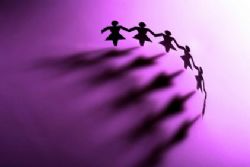 In 2010, 73 women died at the hands of their partners in Spain, and this shocking statistic has given rise to the declaration that domestic violence in Spain is 'the biggest cancer of Spanish society'. Certainly Zapatero's Government have promised to redress gender imbalance in Spanish society but have yet to halt or decrease the rise in domestic violence, including an increase in violence against non-Spanish residents. In addition, Spain currently has one of the highest divorce rates in Europe – 1 in 2.3 marriages ending in divorce in 2009.
However, Spanish society is probably one of the most liberal in Europe too. Women have greater independence now, and Spanish men have come to accept that women will want to work, study and raise children, and will expect their partners to help juggle financial and lifestyle considerations. This is a radical change for a conservative largely patriarchal society in which women used to manage the home but have little responsibility beyond. These changes have been hugely beneficial for most Spanish women, along with reforms to laws for workers and families, but the downside is that it has put pressures on Spanish men in the space of a few generations.
Moreover, comparison with other countries in Europe suggests that domestic violence is increasingly common, but it is more fully reported in Spain than elsewhere. In the UK, 2 women are killed each week by a partner, which is a slightly greater statistic than the Spanish rate. But statistics don't help victims in either country, or explain how it feels if domestic violence is happening to you, especially if you are far from the land you grew up in. The fact that you may be an immigrant simply means you are likely to have less family support and more need of social service assistance.
Warning Signs
In almost all cases, there are signs of violence before any tragedy occurs. According to the UK Crown Prosecution Service almost 35 incidences of violence occur before a woman reports the abuse to the police. In Spain, if you are making a new life here for your family, it is possible that you are even more likely to ignore the signs of violence until they escalate. Don't wait to get assistance . If the situation is controlled before violence escalates into real danger and a violent partner gets help, you will have protected your entire family.
What can you do
If you are the victim of domestic violence in Spain, you should first report your experience to the police by dialling 091 (National Police) or 112 (for urgent assistance during an attack) and giving your name, address and the time of the incident. In Spanish the phrase is Violencia de genéro. Say: 'Quiero informar un incidente doméstico de violencia. Querría hablar con alguien en inglés' if you want to make the report and receive assistance in English. Before courts can issue a restraining order, they will have to confirm that the incident was reported in this way, but then they can issue a fast-track restraining order on a violent partner within a maximum of 72 hours.
Reports can be filed by the victim herself or by a neighbour, friend of family member who is aware of the situation. Gender violence is usually referred to as violence at the hands of a partner but in some cases it can be violence of another family member, such as a father. In cases of physical or sexual abuse, a victim will need to be examined by a doctor who is obliged to inform the police and can request police protection for the injured victim. Psychological abuse can also be reported and will be noted and can result in a restraining order. If your wage is less than double the national average you will receive immediate and free legal assistance to take the perpetrator to court.
Helpline in English
If you dial 016 in Spain there is a free confidential helpline to combat domestic violence problems. On the Spanish website for Ministry of Health, Social politics and Gender Equality, the section on Gender Violence includes information in English (and many other languages) detailing all the support available, including financial aid, access to women's refuges, social and economic resources and advice for foreigners living in Spain. From the home page at http://www.migualdad.es go to the section entitled Violencia de género to read the information in Spanish, or go to the top of the page to convert the information into English.
On the website at http://www.residenteseuropeos.com the Alicante Provincial Council offers an Information Guide on welfare rights for victims of gender violence that you can download, including pioneering initiatives such as obtaining information on the aggressors status within the prison system if convicted, as well as more usual rights such as not having to face the aggressor in court at trial. This sets out in detail the legal process, the rights of the woman and children and ways to obtain maximum assistance. It is usually worth contacting your local British Consulate for help and assistance regarding domestic violence in Spain.
http://www.spirecentral.org provides information in Spanish and English about surviving domestic violence in rural communities in the UK, Spain, Greece and Sweden.
Self-help
The web has a multitude of advice which can sometimes feel overwhelming to victims of domestic violence. The process of filing a report initiates a criminal procedure against a partner that the victim may still love, or feel conflicted about, because they may share children and a home. At all times, a victim should rely upon the advice of a close friend to assist them through the process and for this reason it is recommended that the victim immediately moves to a safe location after any significant incident. Whether you live in Spain or the UK, any victim can receive immediate help to combat domestic violence, but the first step is to discuss your fear or unease with someone you trust.