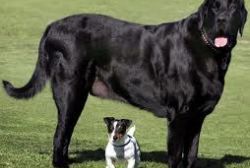 If you are a dog owner considering bringing your pet into Spain, or even if you live in Spain already but are thinking of buying or adopting a larger dog, there are a number of considerations that you need to bear in mind.
The Spanish Royal Decree no.50/99, otherwise known as the Dangerous Dog Act, classifies which breed or under what circumstances a dog is deemed to be dangerous and the responsibilities of the owners of such a dog.
What Dogs are classed as 'Dangerous' ?
Firstly, it needs to be clarified that the decree uses the term 'Dangerous', when it would be better to use the term 'Potentially Dangerous'.
The Decree then goes on to identify the following breeds of dog as being potentially dangerous, however, many vets and other authorities consider the list as a 'guideline' only :
- Caucasian Shepherd
- Doberman
- Corsican Can
- Bordeaux
- Rottweiler
- German Shepherd
- Pit Bull and associated Breeds
- Canary Island Prey Dogs
- All Mastiffs
- Brazilian Fila
However, crossbreeds of any of the above AND any dog over 20kg in weight is also considered to be a dangerous dog.
Any dog that is known to the authorities as having behaved aggressively towards any other dog or human previously will also be considered dangerous, and should only be kept after being awarded a special 'Licencia Muncipal'.
Once you are sure that your dog could be a dangerous breed you should make steps to obtain the appropriate licences and you have 3 months in which to do this. Licences are valid for 5 years.
Regional Variations
If you have what you believe may be considered to be a dangerous dog, the first thing you should do is speak with a local vet to ask for both their professional opinion with regards to the exact breed of the dog, and also their knowledge of how the law is interpretated and applied by the local ayuntamiento as there are differences from area to area.
How to get a Dangerous Dog Licence
If already have, or wish to own a dog that meets with the above description, you are required to pass a psychological exam in Spanish, for which you will be charged around 60-75 Euros, regardless of whether you pass or fail.
You will then need to apply for a certificate from the Ministry of the Interior which confirms that you do not have a criminal record in Spain. If you are non-resident, you should apply for this from your home country, together with a translation into Spanish.
Once again, regional variations may mean that in addition to the above, a combination of any of the following supporting documents 'may' also be required : Padron, 2 x Passport Photographs of owner, 2 x Photos of Dog, certificate of physical capability (from your Doctor), Copy of liability Insurance, Pet Passport proving ownership and all vaccines being up to date, Proof of attendance of special dog handling classes.
How to Handle your Dog
If you want to walk your 'dangerous dog' without a muzzle, both you and your dog will have to pass a test with a especially appointed vet who is qualified to assess this. The vet will ask a number of questions and handle the dog himself to confirm that the dog is not aggressive in any way and easy to control. The test and resulting certificate is only valid for 12 months 1 year and costs around 50 Euros.
The dog should not be walked close to schools or public parks, and the disappearance of such a dog should be reported within 24 hours.
Once you have this certificate you should produce it at your town hall.
Insurance
Owners of such dogs are legally required to hold Public Liability Insurance with cover of at least 120.000 euros, a copy of which needs to be shown at the town hall when applying for your licence.
Note that liability cover for your dog is not normally offered as part of any Medical Insurance cover that you may take out, and should be be taken as a requirement in it's own right.
>> Click HERE to get a free Liability Insurance Quote for your Pet today <<
Who can help me obtain a licence
The first and best place to start is with your local vet. If he advises you that your dog is not dangerous then all well and good, if on the other hand he considers him to be a potentially dangerous dog then ask how you should proceed. Many Vets will help you through the procedure - obviously for a fee - but they will at least be familiar with the language and the exact requirements in your area.
Why bother ?
Because if you do not comply with this law, and you dog is deemed to have behaved in a dangerous way your pet can be confiscated, put down, and you as owner may be fined up to 115'000 euros.