Anyone who has lived in Spain for more than a year will doubtlessly be aware of the fact that it does actually rain here. A lot. We asked Surveyor, Mark Paddon, the effect that huge amounts of rain can have on Spanish properties.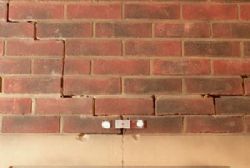 Whilst most property owners will be conscious of market fluctuations affecting their property value they may be less aware of physical issues caused by substrate erosion, which in the long term will cause structural damage that is typically costly to repair and that might well deter future buyers.
Ground erosion is commonly caused by heavy rainfall, which though rare (in terms of rainy days), normally affects most of Spain during seasonal changes, but also via isolated thunderstorms. Properties that do to benefit from bedrock support are most at risk.
Damages may include:-
* Subsidence related cracking to the corners or other external wall areas of the main house.
* Swimming pool movement and cracking (typically across the mid axis or outer corner areas).
* Movement to other built elements such as built BBQ´s, boundary and retaining walls as well as paved areas.
* Slope erosion and land slide
Ignorance of such issues will not make them go away and progressive movement could result in pool water loss, structural cracking (that even to the inexperienced eye is most concerning), rainwater ingress and even collapse of the affected areas. Where retaining walls or steep slopes are concerned, as failure can be sudden often due to heavy rainfall, early signs of movement should always be taken seriously.
The cost of proper underpinning measures, replacement pools and proper retaining walls is high and not always covered by insurers. It is therefore much better to acknowledge issues or potential issues early and take precautions so as to minimise the risk or rate of erosion.
Fortunately preventative drainage measures are relatively cheap to install, especially if the site has not yet been landscaped or much of the surface is of gravel or grass surfacing. The process involves the excavation of a gravel backfilled trench and installation of a suitably sized and filtered perforated land drain, which should carry water at a minimum 1 in 100 fall around and away from the built elements and essentially discharge well below them (preferably out through any lower boundary walls and part way down any adjoining slopes). The principal often known as a "French drain", has nothing to do with France and was actually invented by a Mr Henry French in the US (brought to the public eye via his book on farm drainage in 1859), though his original gravel filled trench has been improved over the years, to include perforated piping and anti clog modern materials such as Geotextile wraps.
Most builders will not include such drainage as standard and many Spanish properties suffer as a consequence, so it is up to owners to stand outside during heavy rain and assess where drains might best be placed. A site inspection by a building surveyor will assess the built elements for signs of erosion related issues and determine suitable location, size and specification of drainage improvement measures (the experience of the surveyor will normally mean that this can all be done on a normal sunny day).
Acting early is the key to avoiding structural works, which typically run into tens of thousands and would inevitably still involve the need for improved drainage measures, so early investment in drainage will save money in the long run and literally help maintain the support to the property and its value.
NB:- Information for advice purposes only. Proper legal and safety procedures should be followed for all property purchases and building works.
Article supplied by Mark Paddon BSc Hons Building Surveying. MCIOB. FAS. CAAT. Click here for further information and contact details.