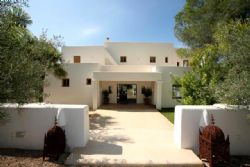 Flat roofs are common in Spain and often form useful terraces above the living space. In higher density developments nearly all homes come with at least a proportion of flat roof 'solarium'. There are various types of build method and covering, but this article will focus on the most common type and its associated problems.
Build method:
The typical traditional flat roof in Spain is comprised of steel reinforced concrete ('SRC') beams with hollow concrete or ceramic block 'bovedilla' infill. The upper surface is normally levelled with a thin concrete or sand/cement screed over which an asphalt waterproof membrane is laid. This is then normally protected with another layer of screed over which, brick shaped 'baldoso' tiles are laid as the finished surface.
Common problems:
Initially this type of roof is normally effective at keeping the rain out for many years, but after 10 years (sometimes earlier) a number of problems can begin to arise. While thermal movement is one of the most common causes, the earlier use of less advanced materials helps to accelerate the failure process. The sequence of failure is normally as follows:
1.) Thermal movement Extremes between winter and summer, day and night, create expansion and contraction in the concrete beams and slab, (steel beams will be even more prone to movement). This causes regular stresses on asphalt the membrane and tile joints above.
2.) Surface cracking The tile joints and even the tiles themselves will quickly give in to the movement (sometimes within the first season, or following an exceptionally hot summer or very cold winter) and hairline cracks will appear.
3.) Membrane cracking Initially the asphalt membrane will be more flexible and hence, more tolerant to some minor movement, but over the years it becomes brittle as compounds evaporate out from the material. Regular movement will cause fatigue along the movement lines and eventually break though the asphalt.
4.) Surface decay While the membrane tires over the years, foot traffic and weathering will also break down the water resistant surfacing of the tiles and the cracked joints will allow for passage of water directly to the membrane. Point loads such as water tanks can also cause problems. As some tiles start to lose their key, water will be more able to pass across the membrane.
5.) Water ingress Once water gets to the failing membrane, it will soon track through to the living space. Ceilings will become stained or later risk collapse, the SRC beams will start to decay and rainy days may call for a few strategically placed buckets. Poor laying or bowing of the roof can also create pooling areas. This will normally cause more extensive ingress. A risk of shorting and even electrocution can occur if electrical installations become wet.
Movement and membrane failure will also commonly occur at parapet wall junctions, chimney stack junctions and level changes. The roof is also prone to heave above load bearing walls, which can also result in membrane failure. Despite the strong nature of SRC beam roofs, they will actually flex slightly under loading, and hence years of BBQ's and sunbathing on the terrace will also aggravate the surface and membrane. While leak areas are commonly flashed with bitumen backed foil, this too will fail over time and often only serves as a temporary and often unsightly solution. Sika do however now make a tile red coloured version 'Sika Sealcolor, rojo teja'.
Solutions :
In the short term, a secondary membrane can be added over the existing tiles in the form of a roof paint, which is best reinforced with a polyester mesh. Commonly 'weber.tec hydrostop' or 'Sikafill' paints are used for recovering, however there is a better material available 'Sikafloor 400N Elastic' which is designed to seal the roof terrace, while being more resilient to foot traffic. Commonly people choose darker red colours, however lighter colours will serve to reflect heat from the roof slab and reduce future movement. The 400N product is specially designed to resist and reflect UV rays and only comes in lighter colours. It is important to realise that painting over the existing surface will only last for a few years (or less) as some thermal movement will still occur in the slab. Clear resurfacing treatments area available for the tiles, however they are generally not thick enough to tolerate movement and hence will crack through (normally at the tile joints, within the first season). If your roof surface is not leaking yet, you can add life and waterproof properties back into the tiles by painting with a product such as 'Monestir Mitrol'.
Property buyers should bear in mind that the presence of any roof paint solution almost always indicates that the roof is defective and the material has normally been added to avoid the costs of a proper new asphalt membrane and re-tiling. Roof paint solutions generally only give short term protection.
A long term solution would require re-asphalting e.g. with –'Esterdan 40P Elast' over a primer coat (e.g. 'Curidan') preferably with insulation and screed over and finished with relatively light coloured ceramic tiles, set on flexible grout e.g. 'Weber.col Superflex'. It is worth noting that most asphalt manufacturers now recommend that a drainage layer of Geotextile e.g. ' 'Danofelt PY200' is laid immediately over the asphalt. Alternatively the existing baldosas can be tiled over using a special flexible and slightly insulative grout called 'Sikabond T8' which is float laid as a continuous membrane first then (24 hrs later) combed with a second layer to stick the tiles in place.
For all new flat roof tiled surfaces, be sure to incorporate tile joints of 3mm or more, as close butted tiles may heave when the terrace heats up.
Many new roofs and terraces in Spain are still being installed without insulation and the use of cheaper inferior grouts and jointing compounds is common. Insulation will also keep the living space warmer in the winter and cooler in the summer as well as preventing ceilings from cracking along beam lines, so try to add some insulating qualities in any new works.
It is worth noting that some roofs that appear to be set on SRC or steel beams may be supported with timber beams. Though these will suffer minimal thermal movement, they will be affected by changes in moisture content and will general flex to greater degree under loading. Hence failure of the upper membrane is normally still an issue.
As a rule, flat roofs either do, did, or will one day leak and the addition of a pitched roof can be preferable in the long term. Protection via insulation and the use of specially designed modern materials can however result in a much longer roof life than traditional build methods.
NB: Information for advice purposes only. Proper legal and safety procedures should be followed for all property purchases and building works.
Article supplied by Mark Paddon BSc Hons Building Surveying. MCIOB. FAS. CAAT. Click here for further information and contact details.