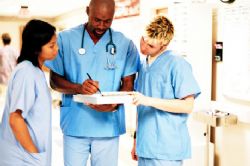 The National Institute of Social Security (Spanish acronym is INSS) is the body that recognizes the right to Social Security Health Care. They have a network of offices throughout Spain that are denominated CAISS (Centres of Attention and Information of the Social Security). Their telephones and addresses can be found in the official web page: www.seg-social.es
When a pensioner from the EU decides to relocate permanently to Spain, they should apply for form E-121 for themselves and their family members before leaving their home country. When arriving in Spain, they should then apply for their Certificate of Registration of Residence (Residencia) at the National Police Station closest to where they live and on receiving this they should then to go to one of the CAISS offices to apply for the registration as a foreign pensioner living in Spain. They should take two copies of the form E-121, the Certificate of Registration of Residence and passport or ID card along with photocopies. These documents will be sent to the head office for the Province, where they will be registered. In approximately one month they will receive a letter with the social security reference number on it. They then have to take this with them to their nearest health centre and register.
If they have not yet reached pensionable age in their home country, or are employees working abroad (or unemployed persons), they should ask for form E-106. On arrival, they should contact the closest CAISS office and have the form stamped. If family members also require health care, take the documentation to proof the relation (i.e. marriage certificate, birth certificate, etc.). This procedure is immediate.
To register for health care, take a photocopy of the form to the nearest Health Centre with a copy of your passport. Always keep the original document while staying in Spain. In Spain, prescrpitions for medicine is free for all pensioners and for everyone else it is subsidized by 60%.
If a foreign pensioner who is a resident in Spain wishes to travel abroad, they will have to obtain the European Health Card from the CAISS office. This will cover emergency and chronic treatment whilst they are away. If payment is required for any of the treatment, keep the bills and ask for a refund when arriving back to Spain at the CAISS office.
REMEMBER THAT IF YOU GO TO ANOTHER COUNTRY FOR MEDICAL PURPOSES FOR AN OPERATION OF SPECIFIC TREATMENT, THIS HAS TO BE PREVIOUSLY AUTHORIZED BY SPANISH HEALTH AUTHORITIES WITH FORM E-112. THE EUROPEAN HEALTH CARD IS NOT SUFFICIENT FOR THIS PURPOSE.
When coming to Spain on holiday for short periods of time, it is necessary to obtain a European Health Card issued from your home country (Go to any main post office or Health Centre in the UK for the application forms). If not, payment will have to be made for any health treatment received. To receive treatment, you have to go to your nearest health centre taking the card and passport or ID.
However, For Holidays and shorter trips, Travel Insurance is always recommended.
How To Register And Obtain Medical Health Care
FOR RESIDENTS
On receipt of the letter of authorization sent by the INSS (National Institute of Social Security) you have to take it along with your passport (and a photocopy) or ID card (and a photocopy), your Certificate of Registration of Residence (and a photocopy) to their nearest health centre where they will have to sign an application form to be included in the Data Base of Users of the Medical Health Care System. (DBU).
They will then register you and send you a health card. Even though the card may take time to arrive, medical care is effective once you have signed the form and registered). The services offered to residents are: the Health Card, Medical assistance, emergency treatment, and subsidized medicine which is free for pensioners and 60% off for all others.
FOR NON-RESIDENTS:
EU members have to take their passport or ID (and a photocopy) and their European Health Card or form issued from home country authorizing temporary health care abroad (and a photocopy) to their local office. There, they will have to sign an application form to be included on the DBU.
Non residents will receive: Medical assistance during their stay in Spain, emergency treatment and subsidized medicine which is free for pensioners and 60% off for all others. To qualify for free medicine it is necessary to be over 65 and to present an officially translated document proving the receipt of a pension.
## Read a first-hand experience comparing State & Private Healthcare in Spain > HERE<
Once registered on the DBU, it is very easy to obtain treatment. There is an appointment system that can be used either by phoning the number of SALUD RESPONDE (Health Care responds) 902 50 50 60 and they will give you the appointment or entering the web page of INTERS@S (type inters@s into a search engine) You will need to state your identification number (the same one that you used when you registered), your date of birth and your name and surname. You can then choose the appointment you wish. THE EMERGENCY NUMBER TO CALL IS 302 50 50 61.
EXCEPTIONS:
All foreigners under the age of 18 that are in Spain have the right to medical assistance in the same conditions as Spaniards.
Pregnant woman that are in Spain also have the right to medical assistance during the pregnancy, birth and post-partum treatment.
There are also a significant number of Private Hospitals in Spain where you can receive Medical Attention, exactly the same as in the UK. There are also Numerous companies that specialise in Health & medical Insurance.
* Update * - As from 1st May 2010 forms E-106, E-109 & E-121 were replaced with one new, comprehensive form - now called 'S1'. The old E-112 form has been replaced with the new 'S2' form.
** 10.10.2014 : An informative Youtube guide on the subject issued jointly by the Dept of Health in the UK and the British Embassy in Madrid can be seen by Clicking the link HERE