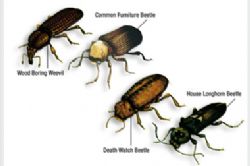 One down side of a warm climate is the increase in insects. Even treated areas of timberwork e.g. windows and doors, may still show signs of attack. Some beetles and termites are so ferocious that they may make headway into the wood surface before being deterred by preservative treatments. It is important that the type of insect and extent of attack is correctly diagnosed in order that the correct measures can be taken when protecting and eradicating wood boring insects from a building structure.
This article is focused on 'Wood worm' or 'carcoma', which typically is 'common furniture beetle' (Anobium punctatum) but can be confused with Ambrosia beetle, Waney edge borer and Weevil. Wood worm, will typically have groups of small holes ( 1-2mm in diameter). These are not entry holes, but actually flight holes i.e. the point at which the worm turns to beetle, and leaves the wood surface. The larvae have normally entered via a surface irregularity or the rear untreated surface of the timber, e.g. where a door architrave joins the wall . Therefore when you see evidence of wood worm i.e. the holes, some beetles have already left, and have no doubt set about infesting other timbers within the property. The internal damage has already been done via a network of little tunnels, which over time weaken the timber to the point of structural failure (each larvae or 'worm' spends up to 3 years eating away the timber!).
Evidence
Other signs to look for (in addition to flight holes), which will help to show if the infestation is live, are: - wood dust on surfaces below the holes, or wood dust on cobwebs below holes, the beetles themselves (small brown about 2mm long). As they have flown they are rarely found near the infestation, but more likely to be seen on a white wall in other parts of the house especially during the warmer months. If you are a light sleeper, the beetle can also be heard tapping (actually a mating call) they don't just do it at night, it's just that lying in bed at night is the easiest way to notice their 'activity'.
DIY Treatment
All wood that shows signs of attack should be surface brush treated and bore holes injected with preservative via a spray nozzle e.g. 'Xylazel Carcoma' . Spray will normally exit from other holes which is a good sign that treatment has penetrated, but it's a good idea to where protective goggles and a mask*, as treatment of one hole can result in others spraying back at you! Once dry, holes can be filled with wood filler before surface finish, e.g. varnish (use a water based Acrylic varnish for easy application and low odour). Ideally all unexposed surfaces should also be accessed and treated. Use 'Corpol Matacarcoma' for larger brush applications and apply plenty of product (you want it so soak in as much as possible).
As with all buildings defects, it's important to ascertain the severity of the problem:-
Treatable superficial infestation would involve cosmetic superficial damage to door architraves, door / window frames and few signs of outer surface attack to some structural timbers e.g. floor joists.
Treatable structural infestation would normally be evident in wide spread, door / window infestation plus signs of attack to structural timbers, where less than a quarter of the beam or post is affected, and beam support ends are sound.
Untreatable serious infestation occurs where beam ends are in stages of advanced attack and normally a quarter or more of the beam cross section area is affected. Tests, can help assess the depth of infestation. Older beams are often hacked back to sound, hard timber and treated, but structural loading capacity can be seriously affected* and the safest (but most costly) solution is replacement of the beam, while occasionally secondary support solutions are possible. In the UK where relatively light floor boards are used over joists, the required loading capacity is less, but in Spain the typical 'Boveda' vaulted ceilings are very heavy, and have often had heavy floor screeds applied over at later dates + older thicker tiles. Loading capacity of beams and good beam support is therefore very important, which is why many old town houses are demolished by the Spanish as they present a genuine danger. Failure to assess the condition of structural timbers is the biggest mistake made by many buyers of older town houses. Assessment of the severity of infestation, preferably prior to purchase, can literally save thousands for the buyer.
Faking
Holes may have been filled and varnished or painted over to hide infestation, also modern beam boxing (designed to give a timber look to concrete beams) can be used over seriously infested timber beams and rafters! If buying, don't take anyone's word for it (agent or owner) that timbers have been replaced or fully treated, without seeking independent advice or cross checking any guarantees. Many properties are 'renovated' without carrying out essential structural timber replacement works (in an effort to turn a good profit) and buying a faked up house is like buying a filled and re-sprayed rusty old car. Unless the work has been done properly the property will rapidly deteriorate and can in many cases be dangerous for occupants.
Guaranteed timber treatment:
The best method of off site timber treatment is via pressure impregnation, where the preservative is forced under pressure throughout the body of the wood in a special tank. As this is expensive and did not exist when many older properties were built, most woods were surface treated on site, such that regular re-treatment (e.g. biannual to exterior windows/doors etc) is needed. Unfortunately it's the beam ends and unexposed areas that join, pillars / walls etc, that wood worm like best, and these are the very areas that are sometimes missed in onsite treatment, (often treated timbers are trimmed to fit on site and the cut end may not be re-treated).
Ultimately a full solution would include fumigation of the property in addition to treatment of all timbers via an approved pressure injection method (a number of holes are drilled into the timber and a reservoir of preservative is pushed into the wood under pressure). This type of work can also help to treat covered timbers (e.g. beam ends) without the need for exposure (so long as they are not set too deep in the walls). It is normally charged by the meter and dimensions of the timber (higher volume means more time and preservative hence more costly) an average sized rafter or joist would work out at €12 per meter a larger beam might be more than double the cost.
The condition of timbers within properties can vary greatly even on the same street, therefore close inspection is the only way to assess condition, (some houses become affected by bringing in infested fire wood or furniture). The good news is that even some very old buildings can have well preserved and structurally sound original timbers, but before you part with any cash through purchase or renovation, make sure you know what's what when it comes to timber condition. In addition to having the option to walk away from a real liability you may also be able to make a justified lower offer for your dream house, effectively freeing up more money for remedial timber works.
Older properties can, and often do collapse in Spain due to extensive insect attack so it's always worth extra caution especially when attack is evident.
NB:- Information for advice purposes only. Proper legal and safety procedures should be followed for all property purchases and building works.
Article supplied by Mark Paddon BSc Hons Building Surveying. MCIOB. FAS. CAAT. Click here for further information and contact details.