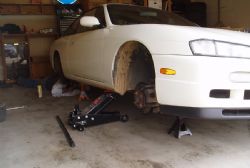 In times of difficult economic conditions it is only to be expected that many families are looking at ways in which they can reduce their monthly outgoings. One such means of budgeting may be to consider 'parking up' a second vehicle to save on the running costs.
Or maybe you have an unused classic car, or a vehicle that you have been repairing or restoring, which is currently not in a driveable condition ?
>> Get Your Car Insurance Quote By Clicking Here Today <<
It is a little known fact amongst Expat vehicle owners in Spain that it is a legal requirement to have your vehicle fully insured at all times – regardless of whether the vehicle is kept off the road and on private land, securely locked in a private garage, in an unroadworthy and undriveable condition, or 'off the road' for any other reason.
Royal Decree 8/2004, de 29 de octubre states that owners are legally obliged to insure all vehicles in their possession at all times – the only exception to this being if you have obtained a 'Baja' from the DGT / Department of Traffic (commonly referred to as the 'Trafico'). The 'Baja' can be used against a vehicle for a number of reasons – one common reason is to disassociate you as being the legally recognised owner of a vehicle (for example if you have sold the vehicle to a new owner and have later discovered that the vehicle has not been legally transferred into the new owner's name ). Another reason would be to declare the vehicle as being 'unused'.
This differs from the UK's Statutory Off Road Notification (SORN), which is a function of the DVLA in de-registering a vehicle from payment of road tax (In Spain road tax is a Town Hall issue and as such must be paid against a vehicle whilst you are the legally registered owner).
How to Obtain a 'Baja'
Unless you have a passable standard of spoken Spanish and time on your hands to visit your local DGT / Trafico office, it would probably be advisable to ask for a Gestor or Abogado to help you with this.
>> How, Why and When to 'Baja' a Vehicle in Spain << .
However, if you are happy to tackle this yourself the official procedure is listed (in Spanish) by clicking here.