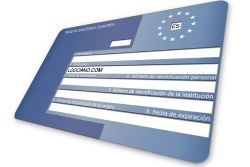 The EHIC (European Health Insurance Card), commonly known as a European Medical Card, can be used to cover any medical treatment provided by the state that you may require due to accident or illness during your time in Spain.
But this only applies when the holder is a resident of the UK.
Once you have become a resident of Spain you must either register for state healthcare or take out private medical insurance.
However if, like many expats living in Spain, you make occasional trips back to the UK – or take holidays to other EU countries – you can only benefit from a similar scheme if you register with the country where you are resident.
In other words if you are legally resident in Spain, planning a trip to the UK and wish to have your healthcare covered in the event of emergencies, then this will be provided by means of the Spanish version of the EHIC and not by an existing or old UK one which you may still have.
The Spanish version of the EHIC is called a Tarjeta Sanitaria Europea (TSE) and allows Spanish residents to benefit from emergency medical treatment and care when travelling within the EU.
Anyone covered by the Spanish social security system is entitled to apply for the card.
Applications should be made at your local Social Security Office (Note: Different offices perform different functions – you should look for 'centro de atencion y informacion de la seguridad social' - otherwise known as CAISS.)
Or, you can make you application online (In Spanish), by using the link > HERE <
However, one exception is those who are resident in Spain, but not paying social security subscriptions, and claiming a pension from another EU Country. Under these circumstances applications must be submitted to the UK by post.
You can request an application form sending out for you and your dependants by calling the International Pension Centre (IPC) on +44 191 218 7777.
** 10.10.2014 : An informative Youtube guide on the subject issued jointly by the Dept of Health in the UK and the British Embassy in Madrid can be seen by Clicking the link HERE