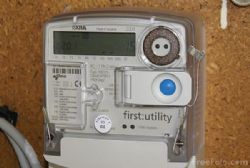 For a long term cost saving plan consider owning your electric meter, rather than renting it. That is the advice given by Tony Poole from Sparks In Spain , our Guru on all things electrical.
According to Ministerial Order (ITC/3860/2007) of the 28th of December 2007 homeowners are legally permitted to install their own electricity meters.
By replacing an existing Iberdrola owned meter with your own meter offers two distinct advantages : Firstly, the rental charge is deducted from the bill providing an instant monthly saving, and secondly, you have an increased level of control if you suspect the meter maybe faulty. Many of the meters installed in properties throughout Spain are in excess of 15 years old, well past their replacement date.
All the electricity distribution suppliers in Spain are currently engaged in a programme ruled by the Ministry of Industry, Tourism and Trade to replace traditional mechanical meters with new digital "Smart Meters" by the end of 2018. Consequently Iberdola have launched the ambitious STAR Project in order to transform their technology over to "Smart Grids". These new meters must have the facility for time-of-use rates and tele-management capacity - IE. it must be possible to read the meter and make any alterations to the contract conditions without the need for an engineer to visit the property. Other benefits include reduction in downtime due to power cuts, monitoring of electricity usage made easy with remote gadgets, and no more estimated readings. Smart Meters are going to revolutionise the way we use electricity in our homes.
If you suspect that you have a faulty traditional-style meter it is a good time to consider fitting your own, and maybe upgrade to a smart meter. If you wish to get your current meter tested, you must pay the cost for this (unless the meter is proven faulty). On top of this there is a cost for disconnecting, removing and fitting a new meter, along with administrative charges, which could all add up to a costly exercise should the test results not go in your favour.
Better to buy your own meter and upgrade at the same time ?
Contrary to some information issued by Iberdrola, they are not using the Power Control Switch (aka ICP) function available with the meter. Whilst the meter incorporates an ICP, Iberdrola currently have no plans to utilize it. The current ICP(M) control is a manual circuit breaker installed as part of, or next to, your Consumer Unit. Those customers required to fit an ICP will be instructed to do so in writing by Iberdrola. Older properties may have an automatic type ICP(A) that is fitted next to the meter.
The current rental cost for a Smart Meter for contracts up to 15 kW is 2.05 euros plus IVA (price may vary slightly). An authorised Iberdrola Electrician can supply and fit an approved Smart Meter and arrange all the necessary amendments to your contract. In a few years the savings from the rental charge will have paid for the meter outright. Inevitably all homes in Spain will have one fitted, so it makes financial sense to own your own.
Replacing your electric meter is also good opportunity to opt for the "Day & Night Home Plan", a dual tariff that offers half price electricity for 14 hours every day (similar to the Economy 7 Plan in the UK).
or further information on Smart Meters, please visit the website of Sparks in Spain, by clicking the link HERE .