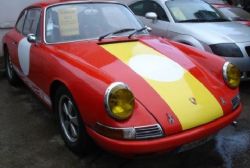 Over the course of the last decade tends of thousands of British Citizens have made the decision to start a new life in Spain.
Equally so, Tens of Thousands have made the decision to return back to the UK for a variety of reasons – more so since the onset of the economic crisis.
Over recent years the economy has taken effect on the used car industry and, generally speaking, previously owned cars tend to hold their value very well in Spain.
As such the market for buying or selling a used Spanish Registered Vehicle in the UK is a vibrant one, and something which should be at least considered when you are about to change your country of residence.
Selling
Anyone returning to the UK will doubtlessly be aware that their Spanish Insurance Policy permits them to drive their Car on the UK roads for a period of not more than 90 days. After this time the Insurance policy becomes invalid and the owner is obliged to legally import their vehicle to the UK.
The procedure to legally import your Spanish vehicle to the UK can be read by clicking >> HERE << and as such we will not go into detail in this guide - suffice to say that the process 'can' take time, and considerable expense to legally import – depending on the make, model, age and condition of your vehicle.
So how do you find a buyer ?
There are countless dealers throughout the UK who specialise in buying and selling LHD Cars (Spanish registered and otherwise). In most cases after purchase they will drive the vehicle back to an associate in Spain who is only too pleased to take on board more stock at a price which is currently less than the value of the car in Spain.
The dealer should run a check to find out that you are the legal owner of the vehicle, and that the car is free of outstanding fines, taxes, embargos and finance. This should take a few days, at which point you should ensure that you have a legal contract of sale (make sure it is dated and timed to ensure that no speeding or parking fines will be attributed to you before ownership can be changed with the DGT).
Although Car Tax runs from and to Jan 1st you should also make a note to cancel any direct debits you may have set up.
Although the dealer will then "own" the vehicle, in many case he will not inform the DGT of any transfer of ownership until the car has been sold on to a new owner.
In many cases you may be surprised to find that the Sterling value of your car is similar to the value of selling your vehicle in Spain – but saving you the expense of making modifications for importing.
Insurance
Don't forget that not only will insuring a newly registered LHD vehicle be more costly, but with almost every comparison website and high street broker they will not recognise the no claims bonus you accrued in Spain there are a few specialist providers which will (feel free to contact us for our recommendations)
Buying ?
If you are buying a used LHD Spanish car in the UK – presumably to drive back to Spain without the cost and hassle of buying a (more expensive ?) vehicle when you get here, then the same advise still applies as if you buying the vehicle in Spain (You can read the procedure on The Checks to Make when buying used Car in Spain by clicking the link >> HERE << .
Finally, whether buying or selling - both privately or through a dealer - keep all copies of all paperwork relating to the vehicle bough / sold and any contract of sale / purchase. Never assume that the ownership transfer will be automatically carried out, or you may be forced to "Baja" your vehicle with the DGT at a later date – a procedure which can be read about by clicking the link >> HERE << .