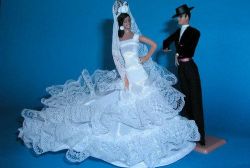 Weddings in Spain – just as they are in most other countries – can be deeply personal events, and as such it would be difficult to give a cast-iron Guide as to the etiquette to be followed for each and every wedding day. As such, the following article aims to give the expat lucky enough to find themselves invited to a traditional Spanish Wedding a rough idea for what might lie ahead, the etiquette of the day and how they may be expected to conduct themselves.
Invitation & Gift
The chain of events usually starts with the written invitation itself, and may often include any pre-wedding tasks requested of the guest. The Invitation will usually state whether to confirm your attendance by phone or in writing. It is usually better to RSVP in writing.
If there is a wedding list, it will usually be included with the Invitation, however the current trend seems to be leaning towards cash donations as this is seen as more practical.
But how much should you 'donate'? – A general rule of thumb is that your donation should at least cover the cost of your meal – a minimum of 100 Euros, and then above that depending upon how close the married couple is to you.
If a cash donation is the preferred gift, you need to bear in mind that you are likely to be charged for making a bank transfer. It is usually cheaper and easier to ask for the account number and then take cash into the married couple's bank, paying it in with a simple message – don't forget to leave your name !
Dress code
As with many events in many countries and cultures, it's easy for men: dark suits and ties. Ladies should wear a cocktail dress - but remember to bring something to cover the shoulders with when in church as a mark of respect.
Say Cheese !
It is common for all aspects of the day to be filmed from start to finish. So try to remember this when you take your seat in church – Family and close friends are usually expected to sit towards the front of the church, so don't take up anybody else's seat! If it is a particularly popular couple, or large family it is not unusual for people to be standing, and in some cases stood outside the church
The timetable
Depending on the time of year, the start time of a wedding is often much later in Spain than in the UK – often around 7pm – with Spring generally being the preferred time of year as the guests are less likely to be bothered by the excessive heat or cold.
The church service itself generally takes around 45 minutes; maybe an hour if this is to include the full traditional Catholic mass. After this, the signing takes place, so you should leave the church and wait outside.
If you are one of the witnesses (there are often more witnesses at a Spanish Wedding than a British one), then you will need to wait inside the church with the couple.
After the Ceremony
This is when the wedding party will congregate to throw confetti, rice and petals and sometimes firecrackers might even be set off.
Everybody will then move on to a local venue where the party will begin with a glass of cava and give everybody chance to catch up outside of the formal setting of the church. The Newly-weds will probably be outside somewhere at this point having some official photos taken, soon to re-appear when somebody will take charge of arranging photo's - be prepared for somebody dragging you forward to have your photo taken with the happy couple.
After one or two glasses of cava the group will be called to Dinner – it is not unusual for this to be as late as 10pm, and this is usually at a leisurely pace – likely to be 2 or 3 hours duration, so pace yourself !
To round off the evening
After the meal the cake is brought in and cut, and then a piece is given to all of the guests to be taken along with a brandy and coffee whilst a speech may or may not be given from a member of the close family. The figures on top of the cake are symbolically quite important and are handed to the bride, who will then present them to the next couple that is to be married.
A bouquet of flowers is usually also given by the couple, often to a single girl with the good wishes that one day she herself may get married.
Formalities over, the music and dancing then begins. The bride and groom have their first waltz together, moving onto dance between the guests seated at their tables, later to be joined by close family. Once the close family have all had a dance, it is acceptable for all of the other guests to join in.
Some of the older generation will start to leave the party after the bride and groom have had their first dance, but don't stand on ceremony and take this as your cue to leave.
The married couple will be the last to leave, after seeing off all of their guests.
The concept of a stag or hen party is traditionally not followed in Spain, instead it is more common for the couple to spend the night before the wedding having a meal with their respective families. Neither is their a best man or maid of honor as is common at British weddings.
Many traditions vary from region to region – for example in Catalonia it is common for the groom to be 'given away' by his mother, and as such the reader will need to bear in mind that this article is not intended to be a definitive account of how a Spanish wedding "should" be.
Whatever the wedding day holds, you are sure to enjoy yourself, if you don't know much Spanish then a few carefully chosen and memorised phrases will endear you to your fellow guests.